Welcome to Primary Seven!
Maths Week in P7
As part of Maths Week Ireland this week, P7 were participating in an online numeracy competition today. This ends on Sunday so we have a number of volunteers endeavouring to get us to the top of the leaderboard over the weekend!
Calculating Scale in P7
On Fab Friday, Primary 7 took their learning on calculating scale outside the classroom. Each group had to measure a different area around school and draw it out using a specified scale. We're still working on our finalised plans!
Outdoor learning in P7
Last week, Primary 7 took a very welcome break from AQE preparations to develop their thinking skills in a different way. Making a hammock to support a member of their group, building their own assault course, undertaking a nature scavenger hunt and being creative with different pebbles extended our learning outdoors.
DfI Road Safety Cycling
Twelve P7 pupils recently obtained their DfI Road Safety Cycling Proficiency Scheme award following three weeks of training and continuous assessment. Pupils had to pass both a practical and theory examination to be awarded their certificate of competence. We wish you many years of safe and happy cycling! Very well done!
P7 Boot Camp
To round off their Jass programme and the end of term, P7 had a visit from Forest Fitness NI on Tuesday morning. After bootcamp and tug of war, pupils and teachers were certainly ready for lunch. Thanks to Carrick Model parent, Lea Vaughan, for putting this together for P7. We loved it!
Birmingham Trip - Day 3 and Day 4
Day 3 of the P7 trip was action packed. We visited the Black Country Museum, went on a canal boat ride, ate lots of chocolate at Cadburyworld & played mini golf in the evening.
Birmingham Trip - Day 2
P7 didn't let the wet weather dampen their spirits on Tuesday. There was something for everyone to enjoy at Drayton Manor and we had a lovely relaxed evening of bowling.

Our children have been complimented a number of times for their good manners, behaviour and smart appearance :)
Carrick Model P7 does The Greatest Showman in the video below!
Birmingham Trip - Day 1
After a very early start, we had a smooth and sunny journey to Walsall, stopping at Dalscone Fun Farm on the way.
P7 have refuelled with dinner and are getting settled in their rooms. Everyone is looking forward to Drayton Manor theme park tomorrow.
Terrific Titanics
P7 shoebox Titanic models are taking shape!
SU transition programme - part 3
P7 had their their final lesson as part of the SU transition programme on Wednesday. They looked at reading a plan of a school & understanding a timetable. They also thought about what they would miss about primary school & what they thought they were looking forward to or worried about starting post-primary.
P7 Transition Programme
On Monday, SU continued their P7 transition programme. We looked at various scenarios which might occur in post-primary and what decisions we might make. Following the example of Daniel in the Old Testament, we thought about having the courage to say, "No."
Lifeguards Fitness Programme
Our Lifeguards lesson this week involved a jumping challenge and doing planks to 'Cha, Cha, Slide.' Pupils and teachers were ready for breaktime afterwards!
Scripture Union
As part of our P7 transition programme, pupils had their first session with Scripture Union this week. We reflected on how we are all unique and special.
Primary 7 Cricket Coaching
Primary 7 have had their second cricket coaching session this week. The weather wasn't quite as favourable as last week but we still enjoyed developing our skills outside.
A Masterclass in Skipping
Primary 7 were treated to a masterclass in skipping by one of the boys in Mrs Kirkland's class during our Lifeguards fitness lesson today. Impressive work!
P7 Volunteering in the Community
As part of their Jass Award, Primary 7 pupils have been litter picking in the local area, most recently at Fisherman's Quay.
P7 Cricket
What fabulous weather for Primary 7 to have their first session with a cricket coach this week!
Lifeguards Fitness Programme
P6 and P7 had their first active session as part of the 'Lifeguards' fitness programme on Friday. After a bleep test and time trial on an exercise bike, everyone was ready to rest afterwards.
P7 Litter Picking
As part of their Jass Award, Primary 7 were busy on the last day of term litter picking around the marina. Our thanks goes to Mid-East Antrim Council for facilitating our volunteering in the local community.
Farewell Miss Oxley
P7 Mrs Kirkland bid a fond farewell to Miss Oxley today. Having a Canadian student teacher has broadened their horizons and their tastes! We were very pleased to enjoy the traditional Canadian treat of buttercream tarts this morning. Thank you Miss Oxley!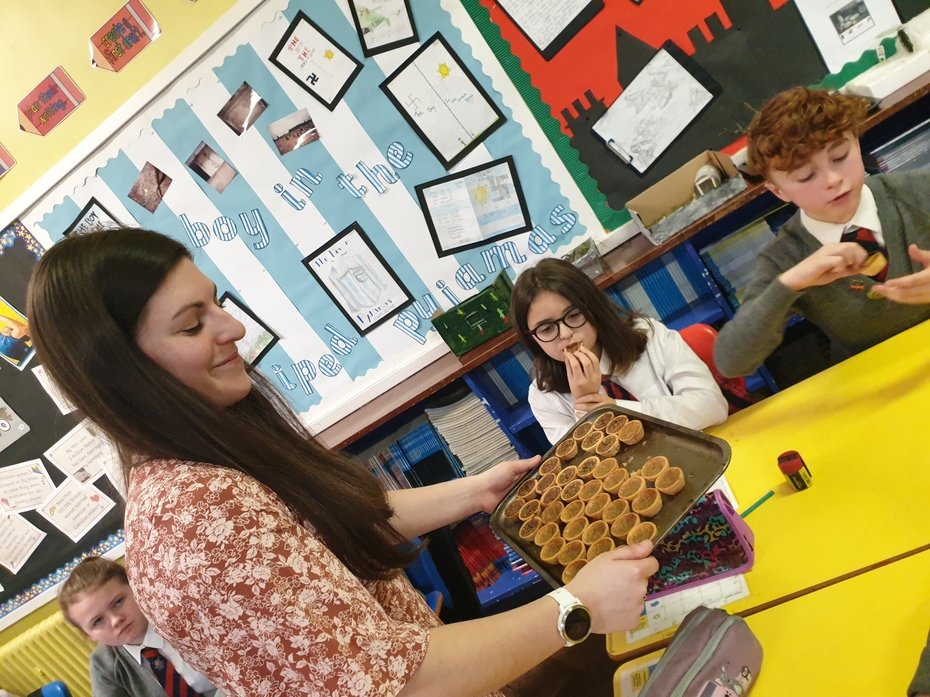 Young Enterprise Fair
P7 have had a very successful day at the Young Enterprise Fair at the Abbeycentre today! Well done to Gabriella for winning Best Sales Person out of all schools represented today.
Young Enterprise Easter Crafts
Primary 7 are building on their previous entrepreneurial experience as they prepare for a larger market at the Abbeycentre in April. Production lines of Easter crafts to be sold at the Young Enterprise fair are well under way.
Sign Language in P7
Our Makaton lesson in P7 this week was signing to 'I can sing a rainbow'. Watch the pupils in the video below.
World War II
Primary 7 pupils have been very industrious in undertaking their WW2 project homeworks this month. We have been very impressed with their creativity, ingenuity and enthusiasm. Plenty more to come but we've been very impressed with air raid shelter models, battle scene line drawings, ration book recipes (we've sampled some vet tasty chocolate cake) and even a WW2 song composed to boost morale!
Boosting Brain Power in P7!
These mathematical whizz kids are determined to successfully complete a challenge on calculating the unknown angles in polygons. We think they are well on their way to be prepared for Year 8 already!
P7 Learn the Alphabet!
On Fab Friday, Primary 7 have been learning their alphabet all over again - this time in Makaton.
P7 Learn to Sign
P7 are busy working towards their Jass awards at the moment (similar to Duke of Ed). One if the new skills they have been learning is Makaton sign language. We are all learning together!
Agents for Change Workshops
On Tuesday, P7 participated in the council led Agents for Change workshop exploring cultural diversity. Gambian dancing was a big hit!
Monopoly Madness
As part of our financial capabilities topic, today in P7 we enjoyed playing Monopoly. This helped us to understand the risks involved with investments, but also the possibilities of gaining large financial returns from investments!
P7 Real Estate Agents
This week on Fab Friday, P7 have been playing monopoly to compliment their learning on financial capability this half term. There are certainly some budding real estate agents of the future in the Model today!
Model Enterprise Day
A big thank you to everyone who supported P7 in their 'model' businesses. P7 pupils have learnt about many aspects of business including the importance of communication and working as a team.
Road Safety Quiz
Some P7 pupils represented our school, at a second road safety quiz in a week, at Carrickfergus Town Hall today. Congratulations to this dream team on 2nd place this morning!
Model Enterprise Production Lines
Primary 7 Production Managers are very busy at the moment ensuring all their products are ready for the Model Mini Enterprise Fair on Tuesday morning. Bring £1 or two along to sample some of the many different items on offer.
Model Enterprise
The model enterprise is progressing well with groups being given the opportunity to buy products from Sainsbury's. On their return they started to put together their products to be sold next Tuesday!
Young Enterprise Programme
All of P7 worked together alongside representatives of the Young Enterprise programme this week. Our budding young entrepreneurs received expert advice from business people currently working for PwC and a local broadband company. They are hoping to put their latest plans into action very soon!
Model Presentations
Primary 7 budding entrepreneurs have been put through their paces over the last few days in the Model Dragons' Den in a bid to secure a loan from school funds for their fledgling enterprises. What an array of presentations and sample products were pitched to the 'dragons.' A big thank you to our guest 'dragon' and to the many mums and dads who are helping P7 in the background too!
Market Research in P7
P7 have continued to be busy working on their Model Enterprise projects. Today they carried out their market research to find out which products will be most popular with their target audience.
Model Enterprises
P7 are embarking on their own 'Model Enterprises' over the next few weeks. To help launch this project, a P7 parent and successful entrepreneur, Mrs Kennedy, visited our pupils to offer expert advice on setting up your own business. Primary 7 learned how communication is everything whether it is marketing your product or working as part of a team. They even got some tips on how to present their business ideas to the 'Dragons' Den' later on this week. We greatly appreciate Mrs Kennedy taking time out to speak to P7 this week.
Holocaust Tree Planting
Primary 7 went to Legg Park last week for a tree planting event in memory of the Holocaust victims. They helped to plant a tree, then hung labels on the branches, each with a child's which for the future written on. They also took a day to look at the events of the Holocaust and the significance of this in history.
THE SOLAR SYSTEM IN P7
Primary 7 have been working very hard on creating their own papier mâché Solar Systems over the last few weeks. Not quite to scale but the gas giants were definitely larger than the terrestrial planets! Did you know that Earth is the only planet in our solar system where a total solar eclipse can occur?
Star Gazing in P7
On Friday P7 were looking at the stars in daylight. They used the SkyView app to locate star constellations by looking up and down(!) whilst walking around the school environment. They had the whole Milky Way in their sights.
SPACE HOTELS
P7 have been working enthusiastically on their post-AQE 'space hotel' projects. They are still under construction but promise 'eco-friendly' accommodation at an affordable price. They are simply out of this world!
Eggnautical Vehicles
Fab Friday in Primary 7 this week centered around the challenge of designing a capsule to keep an egg safe when dropped from a height. Our eggnauts were so successful that we had to conduct a second test from a greater height outside. Toby's team won the prize for the best teamwork and Shiori's group for the best eggnaut design. This bodes very well for some future female engineers!
In The STEM Zone
P7 pupils have been exploring their creative scientific side this week by making robotic hands. Just look at their wonderful creations in the pictures below.
4 Belfast Road, Carrickfergus,
County Antrim BT38 8BU
028 933 51560
jmiller498@c2kni.net

Facebook: https://www.facebook.com/CarrickfergusModel/