Welcome to Primary Four!
P4 Talent Show
#JustForFun P4 had a talent show today...we had a range of acts including performance poets, comedy sketches, various dance acts, solo and duet singers, a magician, keepy-up champions and others...
It was great fun and the children were amazed by what some of their friends could do! Well done kids!
Art Afternoon in P4
Art afternoon, singing along to The Greatest Showman! How therapeutic! For teacher, too!
Reading together in P4
Primary 4 enjoyed reading to their younger friends in Primary 2 today!
Handling Data
Primary 4 have been enjoying learning how to create bar graphs. Yesterday they recorded information about Jungle Animals using a tally chart and today they completed a bar graph, some children used intervals of two on their y axis. After this they answered questions about their data. Good data handling P4!
The Clever Mice
Primary 4 pupils really enjoyed a writing creative story about 'The Clever Mice'. The stories made great bedtime reading for Mrs Gardner. They were also able to write the complete story in lovely joined writing. What great progress P4! One of the creative stories was so fantastic in its use of grammar, vocabulary and descriptive language it was even read out to a P6 class!! Keep up the great work, kids!
Weekly Test Winners
Congratulations to the pupils in the picture below - they really know their X7, X8 and X9 table facts. Keep refreshing them in time for P5!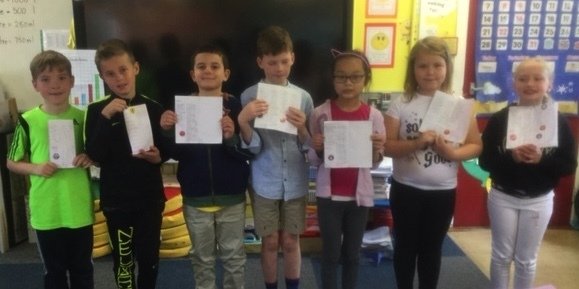 Rainforest Presentations
P4 have been working creatively in the computer suite to prepare PowerPoint presentations on 'The Rainforest'. They hope to present them to other classes in school before the end of term. Great partner and team work everyone!
P4 Explore Morfo
P4 really enjoyed putting previous learning into action by using an APP called 'Morfo'. They downloaded a picture of Winston Churchill, put on a great voice to imitate him and recorded 5 important facts about WWII. It really looked like the man himself was talking to us! These boys REALLY enjoyed exploring this APP; they commented on the potential it has for other topics in P4.
Weighing in P4
Primary 4 were comparing and predicting weights in the classroom today.
IFA Lessons in P4
P4 had a fabulous time on Wednesday with Daniel the IFA coach. They learned how to pass a ball, block a ball and navigate around danger. Thank you again, Daniel. We cannot wait until our next lesson!
Reading Outdoors in P4
Mrs Robinson's P4 took advantage of the good weather by reading outside in and around the outdoor classroom.
War Museum Visit
Mrs Gardner's P4 class went on an exciting train journey today to visit the NI War Memorial Museum in Belfast. Their guide, Jenny, made the whole local experience seem very real with an informative presentation, interactive displays, dress up, exploration of a vast range of artefacts, anecdotes and quizzes An amazing time was had by everyone and I know we will all sleep well tonight after all the walking we did!
War Museum Visit
Mrs Robinson's P4 class went on an exciting train journey today to visit the NI War Memorial Museum in Belfast. They have been learning all about WW2 and were already very knowledgeable about the effects of the war on the home front. However, their guides Alan and Michael made the whole local experience seem very real with interactive displays and quizzes, relating to how life was affected by the 'Blitz' in Belfast and even how small towns like Carrickfergus
contributed to supporting the war effort. The children's behaviour was complimented by passing strangers, transport workers and as always, lunch was a big hit, the train ride was amazing and we even celebrated hitting 10k on the step counter! We will ALL sleep soundly tonight!
IFA Coach Teaches P4
P4 had a fabulous time today with Daniel the IFA coach. They learned how to use their space, to change direction, how to avoid others and how to move and pass a ball at the same time to score a goal. Thank you again, Daniel. We cannot wait until our next lesson!
Fractions mean Fairness!
Primary 4 enjoyed using food today to ensure that a whole chocolate bar was split fairy into equal parts. The best bit came at the end though when they all got to eat a quarter each!
Football Lesson
P4 enjoyed their PE lesson today with Daniel from IFA. They moved around and used space in lots of different ways and then enjoyed learning a new and exciting way to play dodgeball. Everyone had a great time!
STEM CHALLENGE
Primary 4 pupils were set a STEM challenge today. Pupils had to construct a building at least 60cm tall. Furthermore, the construction had to be able to withstand the weight of a ball. The tower/building also had to be able to stay upright when a force was exerted on it. The pupils really enjoyed working in teams and fulfilling the different aspects of the challenge. Well done to everyone for being so creative and for being very resilient too when things sometimes did not go exactly to plan. Great job, P4!
P4 Fractions
Primary Four used play dough to make pizzas and cakes, today (thanks to our Primary Two friends!). We cut the whole pizzas and cakes into equal parts and recorded how many parts were out of the total number, recording and naming it as a fraction. For example, two out of three equal parts equals two thirds. We were even able to compare the sizes of fractions, for example two quarters is the same as one half. Easy peasy!
Learning Length in P4
Primary 4 have been learning all about measuring in centimetres. They learned a lot about the significance of accuracy when measuring, as well as the importance of which tools to choose depending on what you need to measure e.g. ruler, measuring tape, metre stick, trundle wheel. Pupils took great care with measuring in centimetres and even millimetres. Primary 4 really enjoyed measuring curved objects too and used a measuring tape to measure each other! They had great fun!
What Model Homework!
Primary 4, Mrs Gardner's class, really impressed everyone today with their marvellous joined handwriting homework. Mrs Gardner gave her class the option of writing in joined and these wonderful pupils couldn't wait to push themselves to go for it and go joined! Well done everyone for being brave and taking the plunge! #Proud teacher alert!
VE Day in P4!
Primary 4 had such an amazing time today; the pupils came to school dressed as 1940's children. First, out of nowhere, we heard a WWII siren sounding, warning of an impending Luftwaffe Blitz on Belfast. Everyone had to take cover in our imaginary Anderson Shelter. We were prepared though as we brought card games, marbles, books, comics and or course our torches so that we could see in the dark. After the danger had passed we played street games. We enjoyed skipping, we swung hula hoops, played leap frog and 'Queenio who's got the ball?'. Finally, we heard Winston Churchill announce that the war was over and that there was victory in Europe. All that was left to do was have a party to celebrate VE Day. We enjoyed biscuits, now that there would be less rationing, and drank juice. Finally, we enjoyed some swing band music and some dancing to end the day on a high note.
Exploring 3D Shape
Primary 4 enjoyed exploring 3D shape today. They examined each of the shapes and then carefully recorded the properties - faces, edges, vertices. Earlier this week pupils also identified the nets of these and other 3D shapes. We each look forward, now, to constructing our own 3D shape and completing a detailed writeup about it.
Anderson Shelters
Primary 4, Mrs Gardner's pupils, were so inspired by the P7 Anderson Shelters that they decided to go ahead and make some of their own. Mrs Gardner was surprised as she didn't expect this but she was VERY impressed by the creative masterpieces the children had made. Everyone in the class was very impressed and couldn't wait to have a closer look.
WWII Experts Visit P4
Primary 4 had the tremendous privilege today to listen to and speak with people who experienced life during WWII. One of the visitors was a German lady; she told many interesting stories about life in Germany, at this time, and about the British Red Cross arriving when the war ended. The stories told by the visitors captivated everyone present and gave us a real sense of what WWII was like. We had a talk from a soldier who landed on the Normandy beaches, where there were heavy casualties, as well as from a lady who saw the Luftwaffe airforce arrive and fly over Belfast Lough while Belfast went up in flames. Words cannot express how precious this encounter was today for all of those present. We will remember the words we heard for a long time to come. Thank you to Mrs Brown, Mrs Tyler and all of the people who gave their time to passing on wisdom and knowledge to our younger generation, reminding us to avoid war at all costs.
P4 Joined Handwriting
Have a look at the lovely joined writing Mrs Gardner's class have been doing. The standard of work is very high. Well done children. Keep up the good work!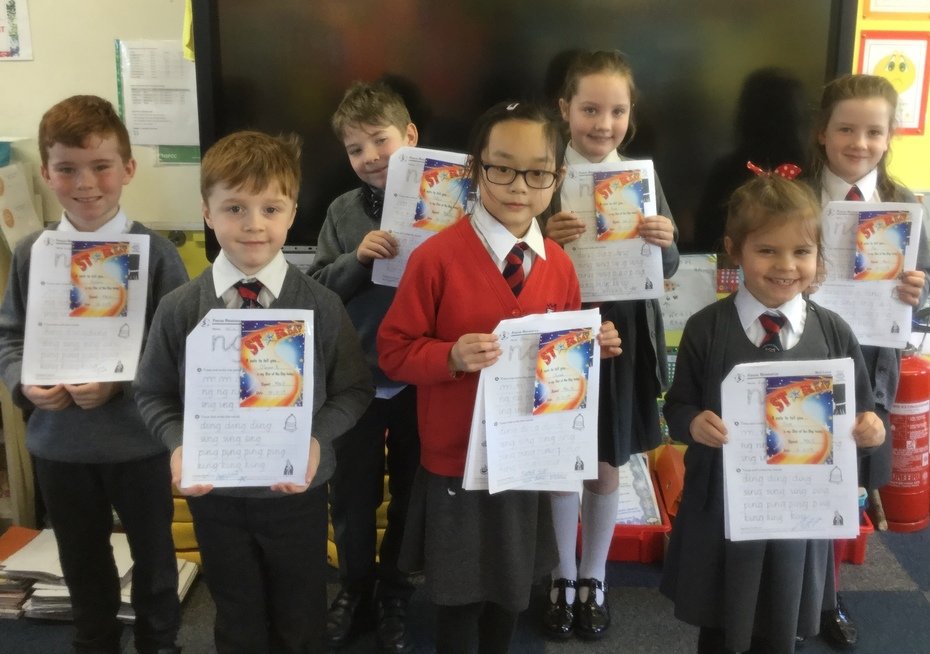 WWII Drama
Mrs Robinson's class dramatised life as evacuee children during WW2 and today they worked with writing partners to complete their diary entries. How special do these look?!
The Wind and the Sun
Primary four enjoyed reading the story of the Wind and the Sun and acting out the story. We also had a class orchestra who played both piano and forte with the percussion instruments. It was a Fab way to spend Friday!
Active Maths in Primary 4
Primary 4 enjoyed using a wide range of resources today to learn more about division. A great time was had by everyone.
Singing in the Rain
P4 Mrs Gardner's class were 'Singing in the Rain' today in PE. Mrs Gardner had a really tough time choosing the winning group. Have a look at the video below to decide who you would have picked from the final three contestants!
Singing in the Rain
P4 Mrs Robinson's class were 'Singing in the Rain' as part of their weather topic. The children had great fun creating their dances together and performing them for each other at the end of the topic.
The Students Become the Masters
Two Primary 4 boys in Mrs Gardner's class led the Numeracy lesson today and they were tough taskmasters! The boys asked pupils to tell the time in both analogue and digital time and they made sure the rest of the class followed the correct steps. They asked the pupils to give answers in minutes past and minutes to the hour. They smashed the lesson - well done boys!!
P4 Teamwork
This week's ripple of kindness focus is "teamwork" and Primary 4 had great fun with this challenge! Working as a team, each group had to balance and lower the hoop to the ground using only a straight index finger. Some teams came up with their own ideas to make the challenge more difficult such balancing on one leg! Super teamwork everyone!
A Lesson on Kindness
Miss Gillespie from Carrickfergus Grammar School visited Mrs Gardner's class this week. She was a total hit with the pupils. Miss Gillespie was eager to teach a lesson and so today she led from the front. She asked many interesting and stimulating questions about what beauty is, what kindness looks like and she taught pupils that we should all value ourselves just the way we are. It was a great lesson for us all! She is welcome back to P4 anytime and the pupils gave her lesson a massive thumbs up.
Activity Based Learning
During ABL pupils enjoyed making 'Wind and the Sun' masks and painting winter trees. Groups of pupils presented a well planned, previously written in pairs, weather forecast for their islands (which were created by following precise instructions). Pupils spoke very well and enjoyed the excitement of a pretend live broadcast. Watch out Cecilia Daly!
Division
Today Mrs Gardner's class learned the language associated with division - share, split, group, divide. They learned to make connections between their division and multiplication facts. Pupils then learned how to share equally between 2-6 pupils. They did a great job!
Teacher Training in P4
Two primary 4 boys were so competent in their knowledge of 2D shape that they became the teachers. They assessed the work of the rest of the P4 pupils. They discussed which comments they should add, depending of how many answers pupils got right or wrong, and they marked the work very carefully - as you can see! Well done boys, there's plenty more where that came from!!!
P4 Division
Primary 4, Mrs Robinson's class, enjoyed learning about division today. They now know how to divide by 2.
School Council Feedback to P4
Primary 4 School Council members, in Mrs Gardner's class, fed back the minutes from last week's School Council meeting to the rest of the class. They enjoyed raising a few exciting issues and heard ideas/feedback from the rest of our class. We all think that they are doing a great job! Keep up the great work!
P4 Weather Forecasters
P4 have been learning to read the weather, record temperatures in degrees Celsius and have been keeping a watchful eye on whether the meteorologists have been getting things right! They have been enjoying searching the Internet to check weather forecasts and have been enjoying recording our daily weather as well.
P4 Shape Investigations
Primary 4 have been learning about quadrilaterals and were asked to investigate how many different quadrilaterals they could make using geo-strips and geo-boards. They really enjoyed this investigation work.
Singing in the Rain in P4
Primary 4 have been putting together well choreographed dance moves, for the second week in a row, to the famous song 'Singing in the Rain'. Their topic is 'Whatever the Weather' and I cannot wait to see the big dance finale. Keep an eye out here for the final (dress-up) event!
Whatever the Weather in P4
Primary 4's topic is 'Whatever the Weather'. During ABL time we made wind catchers, researched and recorded interesting facts about weather, painted wintry forest scenes and made weather maps for presentation to the class next week. Barra Best, you'd better watch out!
P4 Christmas Art
Mrs Gardner's primary four pupils have been very creative this week. They made fabulous Christmas reindeers. For the last few weeks we have been singing 'Rudolph the Red Nose Reindeer' (fun version) a lot so we decided to make reindeers to mark the occasion! Have a look at the finished products below! A big thank you to Romi, this month's pupil of the month, for all the extra help she gave her teacher in class!
P4 Christmas Art
Mrs Robinson's primary four pupils have been very creative. They made fabulous Santa faces! Have a look at the finished products in the video clip below! Ho ho ho!
Primary 4 Coding Experts!
Primary 4 had a brilliant time yesterday taking part in the Hour of Code. They were able to choose which activity they wanted to do - 'Star Wars', 'Minecraft' - some pupils even explored the more festive option of 'The Grinch'. Everyone had a great time and some pupils really pushed themselves to get through the levels and complete increasingly difficult challenges. Pupils also supported each other and got their heads together for some paired learning when aspects of the task got a bit tricky - what a great approach to problem solving! They now have personal logins and I hope they will enjoy using specific activities at home as well as in school.
School is Cool in Primary 4
Primary 4 have been enjoying their topic 'School's Cool'. They received four mystery bags from four different members of staff, each staff member having a different job in our school. Pupils had to become detectives; they had to work out, from the clues provided, who owned each bag. Most of the groups guessed correctly but one group just couldn't work out who owned their mystery bag. Well done P4, Inspector Clouseau watch out! Now it is time to complete our write-ups and make clay faces of our mystery characters for Art.
MATHS INVESTIGATION
Primary 4 have been enjoying using Cuisenaire to apply their understanding of multiplication. This week they have been learning about Commutative Law and they have had a few challenges thrown their way. As you can see, from the great answers, P4 are doing their teacher proud! Well done kids!
Young Enterprise
All of Primary 4 were very lucky to have Emma from Young Enterprise come in and teach them today. They explored the concept of 'Community' and thought about what type of business they could bring to the town they were presented with on the board. Children then had a vote about whose business idea was best. Overall the children learned a lot, they were completely engaged in their learning and the activities given to them, and they had great fun mixing with their friends in both P4 classes.
Primary Four Writing
Mrs Robinson's class enjoyed a shared writing session this week! The pupils' creative juices were overflowing!! After a shared session, they wrote their own pieces and then they helped edit each other's work. It was so much fun...P4 can't wait until the next lesson!!
PRIMARY FOUR NEWS
Primary 4 love maths challenges. They have been enjoying games and extension activities using Active Maths resources. Furthermore, pupils have enjoyed using their counting on strategy to work out change from 50p and 100p.
Primary 4 Art Work
P4 have been enjoying working with clay this week. They manipulated the clay and used a range of sculpting tools to make faces of four different members of staff - Mrs Miller, Mrs Beggs, Mr Kirk and Mrs Love. Pupils worked very hard and some pupils learned how to successfully attach a nose to their clay face. I can't wait to see how good they look when they are painted.
Primary 4 Activity Based Learning
Mrs Robinson's class were busy today building a playground out of lego during ABL.
Primary 4 Engineers
Mrs Robinson's class work as engineers to explore how the playground is constructed. Watch out for our playgrounds built from junk materials!
Legg Park Visit
Primary 4 enjoyed visiting Legg Park today. They looked at the shapes and discussed the recycled materials they would need to collect in order to build junk parks during ABL. They had a great time playing on the equipment before we left to come back to school.
Football Skills in P4
Primary 4 are so lucky to have Daniel from IFA to teach them excellent ball skills and brilliant football related games. Today pupils played Statues, Pac-Man and Bench Football. Pupils had an amazing time and they cannot wait until next week! Thank you, Daniel!