Safer Internet Day
E Safety Competition Winners
Congratulations to the winners of the E Safety Competition, pictured below!
Primary one coloured a poster of Smartie the Penguin, Primary 3 created storyboards about Smartie, P4 designed a poster, P5 made acrostic presentations for P7, P6 made bookmarks for the younger pupils and P7 made helpful cards for pupils down the school. Well done to all of our pupils for taking part, you did a brilliant job!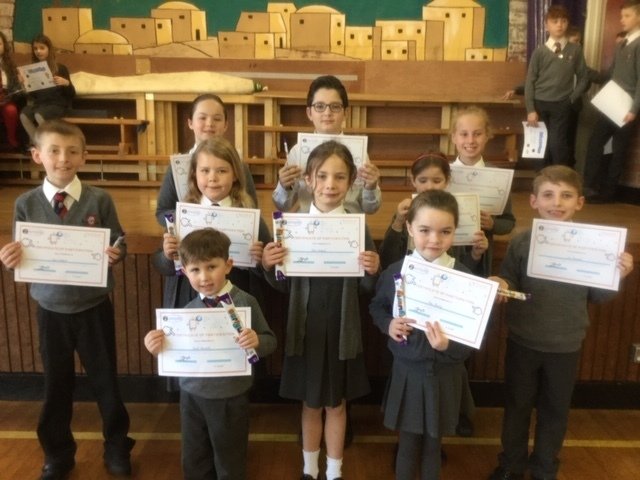 Safer Internet Day Assembly
Today, Tuesday 5th February, our digital leaders gave a talk and presentation all about E-Safety. They offered sound advice about how to make important choices online and how together we can make a better internet. Then the leaders issued a warning to everyone about the importance of knowing more about their digital footprint. Mr Trussell recapped the main messages from the presentation and thanked the digital leaders for their hard work. Year group competitions are now in full swing and we are waiting in anticipation to see the wonderful work that will be submitted. (The digital leaders are the judges!)
Primary 4 'Smartie the Penguin' Posters
Primary 4 enjoyed preparing draft one of their E-Safety posters. They read the story of 'Smartie the Penguin' and are now making posters for a P2-P3 audience; they are aiming to give these pupils advice about how to stay safe online.
I wonder who will win the competition for primary 4?!
4 Belfast Road, Carrickfergus,
County Antrim BT38 8BU
028 933 51560
jmiller498@c2kni.net

Facebook: https://www.facebook.com/CarrickfergusModel/