After School Clubs
Achieving success in all areas!
We are very fortunate to have a highly dedicated and professional staff. This is evidenced through high quality classroom practice, openness and participation in new initiatives and involvement in so many enriching activities that go beyond the classroom such as extra-curricular activities, residential educational visits etc.
Each year we offer a range of extra-curricular activities. Some of these are run by outside providers so will incur a cost. Others are run by our dedicated teaching staff. Examples of some of these are:
Morning Supervision (from 8.00am – no cost)
Breakfast Club (from 8.00am)
Scripture Union
Jumping Clay
Football
Rugby
Hockey
Choir
Orchestra
Body Balance
Irish Dancing
ECO Club
School Council
Drama
Science
Crafty Club
ICT Club
Ju-Jitsu
Joyful Noise
Model Rugby Players!
Model rugby boys undefeated all season!! Congratulations to these FAB boys!
BRA Festival Winners!
The P5/6 rugby team made an impression at the BRA Festival!! We played Whiteabbey, Templepatrick, Greenisland and Ben Madigan, winning all four games. Well done boys!
Schools Finals Tournament
On Wednesday the school hockey team headed to the Newtownabbey and Carrickfergus schools finals tournament, and they certainly ended the season on a high. With 14 schools in this league it wasn't an easy task but the whole team put in 100% from the start and showed true Carrickfergus Model spirit and determination. EVERY girl gave her all and it paid off with every match being not only won, but with a clean sheet! Not a goal got past them. It has been amazing to watch these girls progress this year and we hope they know how proud we, and the whole school, are of their positive attitudes, sportswomanship and hardwork. A group of true hockey heroes
Golftastic Awards!
Congratulations to these wonderful golfers who received green band awards, blue band awards, orange band awards and AMAZINGLY gold band awards. The tutor told everyone present in assembly that the pupils at the Model have received more gold band awards than any other school (and this is the highest level out of all of the colours). Furthermore, a few boys in P4 have even gone beyond this and achieved their 'Skill bands'. Fabulous work everyone. Watch out Rory McIlroy!
Ulster Hockey Coaching Clinic
Yesterday the Hockey Team was invited to attend a Hockey Coaching Clinic organised by Belfast High School and led by Shirley McCay from Ulster and Ireland. It was a great opportunity for the girls to go along and be coached by Shirley and also the Belfast High School hockey coaches. The girls enjoyed learning new skills and participating in different drills, with Shirley on hand to give tips and advice. The girls worked hard, listened to the advice and showed off some skills at the end in the matches. Great manners and respect was shown by all girls. It was super to watch how supportive every girl was of her teammates, the encouragement of each other and in particular how supportive the P7 girls were of the two P6 girls who joined us for the first time, and gave it their all! Thanks goes to all involved for the invitation, a great day, parent support and for help with lifts to get the girls down to Belfast High. We look forward to our tournament here next week!
Chill Out Zone
The Chill Out Zone had a new experience today singing along with Mr Martin and some dancing...some pupils just chilled for a while in the reading corner:)
Scratch Coding Club
Primary 4 and Primary 5 pupils have been enjoying all the challenges thrown their way in Scratch Club. They have been learning how to be creative in Scratch 3 and have been enjoying several open-ended activities. Pupils have been learning how best to use the the x and y axis, how to build scripts for several sprites, they have been exploring the full range of movement and looks blocks as well as using loops and other controls. They are the best Scratch Club on planet Earth! Go Scratchers!
Football Team
Here are our under 10 football team warming up before their match against Victoria. It was a 5-0 win for the boys!
Yoga Club
Pupils thoroughly enjoyed learning how to be super bendy and stretchy in yoga club today. Just look at the fun they are having in the pictures below.
Hockey Club
A touch of snow didn't put off our hard core hockey players! Just look at their dedication in the picture below.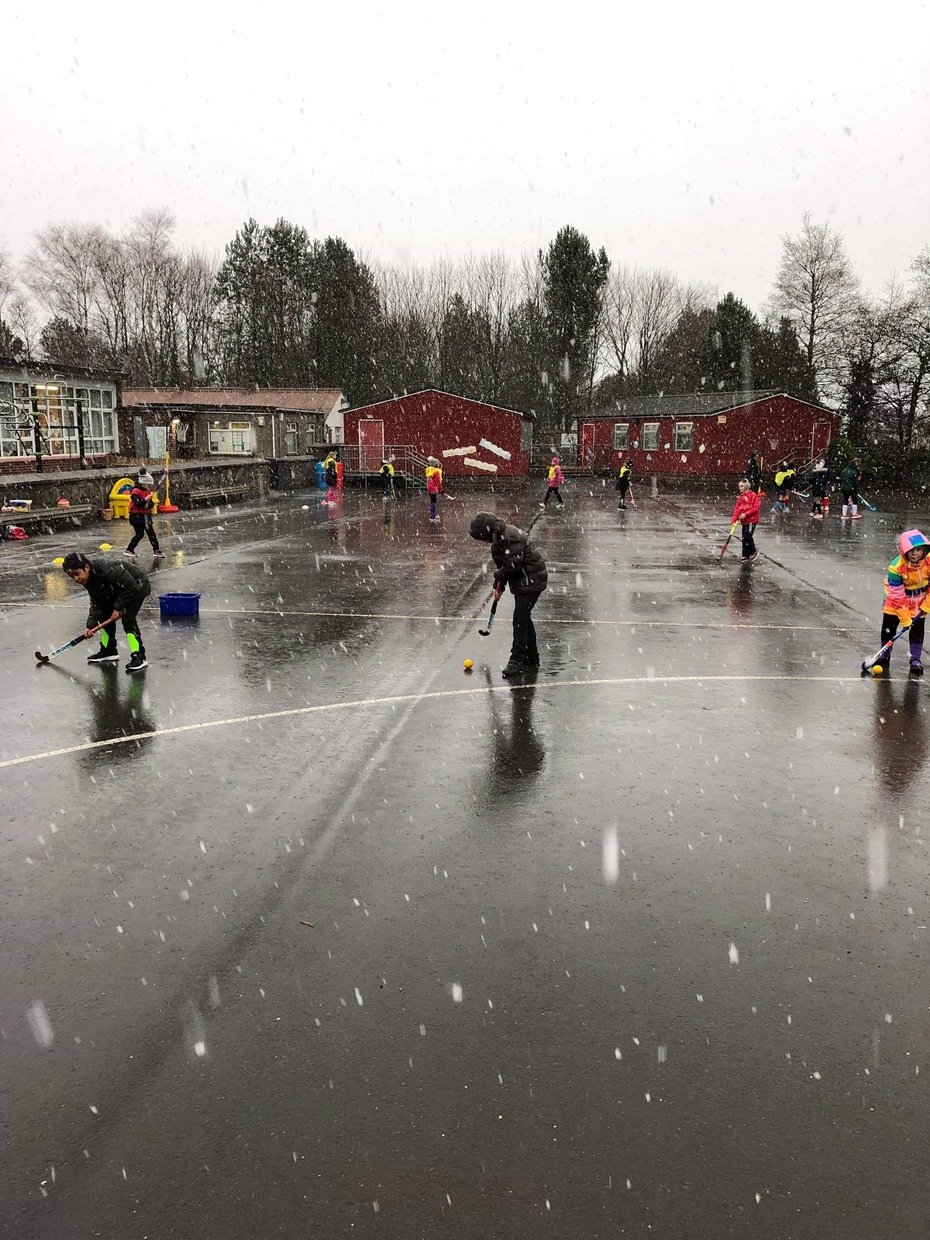 Rugby Club
The snow wasn't enough to cancel rugby yesterday. The boys played on as if it was a summer's day!!
BURN'S SKILLS SCHOOL
Congratulations to the Burns Skills School's Dancers of the Week. Well done, ladies.
BURN'S SKILLS SCHOOL
Congratulations to this week's football stars. Burn's Skills School awarded these two players as their 'Players of the Week'. Well done boys!
JOYFUL NOISE
Have a look at what a great time pupils are having in this fun-filled action-packed after school club. Doesn't it make you wish you were back at school again?!
GOLFTASTIC
Golftastic has got off to a good start this term. The pupils are acquiring so many important skills. Keep up the great work, golfers!
CODING CLUB
After school Coding club looks like great fun for the Primary two pupils and also for the Primary five to seven coders.
4 Belfast Road, Carrickfergus,
County Antrim BT38 8BU
028 933 51560
jmiller498@c2kni.net

Facebook: https://www.facebook.com/CarrickfergusModel/