Recent Events
Have a look at some of the special occasions that have taken place at Carrickfergus Model recently.
There are always plenty of things happening around our school.
Belfast High School Visit
On Wednesday morning, P7 had a visit from Mrs Creighton and two Year 8 pupils from Belfast High School.
Primary 7 pupils watched a video and listened to lots of valuable information about what is on offer to pupils attending Belfast High School. We were delighted to welcome back our 2 extra special guests. Anyone recognise them? Don't they look so smart in their new uniforms!
We would like to thank the staff and pupils for taking time to visit us.
Belfast High School Open Morning is Saturday 19th January, 9.30am-12.30pm.
Model Enterprises
P7 are embarking on their own 'Model Enterprises' over the next few weeks. To help launch this project, a P7 parent and successful entrepreneur, Mrs Kennedy, visited our pupils to offer expert advice on setting up your own business. Primary 7 learned how communication is everything whether it is marketing your product or working as part of a team. They even got some tips on how to present their business ideas to the 'Dragons' Den' later on this week. We greatly appreciate Mrs Kennedy taking time out to speak to P7 this week.
Primary 6 Shared Education
Primary 6 enjoyed a Shared Education trip today to Sunnylands Primary School. A great time was had by all of the pupils who enjoyed making arch bridges with stones and cement and as well as a challenge to build the tallest tower using cocktail sticks and marshmallows! All part of our shared STEM topic of bridges!
Primary 6 Sound Topic
When P6 got back to the Model they made tissue box guitars, as part of their sound topic, to investigate pitch and loudness of stringed instruments! A fun day all round!
Golden Time
Lots of Key Stage 2 pupils made their own Eton Mess during Golden Time today. Dazzling desserts were enjoyed by all!
Action Cancer Workshop
This week P6 attended workshops run by Action Cancer. Pupils had opportunities to look at the effects that smoking and alcohol can have on their bodies. It was a great session and the facilitator was very impressed with the participation, questioning and prior knowledge the pupils had. P6 are now on route to making good choices for a healthy life!
Primary 3 Activity Based Learning
Primary 3 have started their new WAU topic, 'Water'. We enjoyed lots of water ABL activities. We used LEGO to build swimming pools and boats. We designed posters about why water is important. We created sea creatures out of Play-Doh dough and played water games on the iPads.
Primary 3 Marble Run
Primary 3 had great fun designing, making and modifying marble runs. They also enjoyed trying out all their friends different designs and telling each other what they liked about the marble run.
Primary Two at Play
Here are some pictures of Primary 2 having a great time during Play Based Learning. They have also been finding out about 'People Who Help Us. We can definitely see some future fire-fighters in the images below.
Carrickfergus Grammar School Visit
This week P7 had the pleasure of a visit from Mr McDonald, Head of Year 8, Mrs Best and 2 extra special guests from Carrickfergus Grammar School.
Primary 7 pupils listened to lots of valuable information about what starting Year 8 in Carrick Grammar, none more so than the first hand experience of our 2 extra special guests. Anyone recognise them? Don't they look so smart in their new uniforms!
We would like to thank the teachers for taking time to visit us and especially thank the pupils who volunteered to be in school on the last day of their Christmas holidays.
Carrickfergus Grammar Open Night is on Thursday 24th January, 6.30-9.00pm.
Primary 4 Shared Education Day
Children from St. Nicholas's Primary School and Sunnylands Primary School visited the Model today. The P4 pupils all had a great time playing ice-breaker games, parachute games and having a 'Get to Know You' session. Later on pupils drew and coloured portraits of each other and then had further fun dancing to Super Movers and saying their times tables.
We cannot wait to have our next session together!
MERRY CHRISTMAS...JUMPERS!
Have a look at some of the fabulous Christmas outfits pupils wore to school for our non-uniform day on Thursday. It was Christmas party day and the children really dressed for the occasion. Everyone looked fabulous!
P4 Christmas Art
Mrs Gardner's primary four pupils have been very creative this week. They made fabulous Christmas reindeers. For the last few weeks we have been singing 'Rudolph the Red Nose Reindeer' (fun version) a lot so we decided to make reindeers to mark the occasion! Have a look at the finished products below! A big thank you to Romi, this month's pupil of the month, for all the extra help she gave her teacher in class!
PRIMARY 4 WISH YOU ALL A MERRY CHRISTMAS!
After our Christmas performance last week P4 asked could they perform Jingle Bells, still in costume, and even though we had slightly windy weather we persevered to send you this Christmas jingle. So, Merry Christmas everyone!
THE NATIVITY MUSICAL
Here are a few pictures of the after-schools drama group musical 'The Nativity' performed on Monday to parents in the hall.
Primary 3 Christmas Party
It looks like P3 had great time at their Christmas party today. They enjoyed playing games, showing off their talents while playing 'Pass the Parcel' and dancing to some favourite songs. They have definitely got the X Factor!
Primary 3 Christmas Art
Primary 3 enjoyed making Santa cards yesterday. Have a look at them following all the steps carefully to complete their cards. I wonder who the lucky recipients will be?
P5 Christmas Art
Primary Five being very creative making their rice Snowmen!! It was a tight squeeze and epic tidy up but everyone had fun.
P4 Christmas Art
Mrs Robinson's primary four pupils have been very creative. They made fabulous Santa faces! Have a look at the finished products in the video clip below! Ho ho ho!
Choir-a-Caroling
Recently the P6s and P7s from the school choir have been out and about singing carols at nursing homes and Carrickfergus Library. Our audience on Tuesday was treated to a brass duet of "We wish you a merry Christmas" as well.
A Model Christmas Fair
There were SO MANY EXCITING THINGS TO SEE AND EXPERIENCE at our Christmas Fair on Friday night at the Model.
We hope that all of the children and adults enjoyed the inflatable snow globe, Santa's Grotto, the 'Candy Cane Treasure Hunt', the toys and tuck shop, the craft activities, the 'Just Dance' room, the face painting, story time in the library as well as the yummy hot chocolate and hot dogs!
We hope that it helped everyone to get into the Christmas spirit!
LIGHTS, CAMEL, ACTION!
We hope you were able to make it to our P1-4 performances this week. Here are some photos from Lights, Camel, Action. You can see all of the Strictly dancers and judges in action. We were lucky to have such a brilliant range of great dancers - from ballerinas, to hip-hop dancers, to funky camels and wise men, to disco dancers and, last but not least, the tango dancers. Great fun was had by EVERYONE! And in the words if our very own Darcy Bussell - it was A-MAZ-ING!
So everyone, keeeeeeep dancing!
SPACE HOTELS
P7 have been working enthusiastically on their post-AQE 'space hotel' projects. They are still under construction but promise 'eco-friendly' accommodation at an affordable price. They are simply out of this world!
The P1-4 Christmas Celebration Has Begun!
Have a look at some sneak-preview pictures from our three Christmas performances - The Sleepy Shepherds, A Midwife Crisis and Lights, Camel Action! Hopefully this will get you excited in anticipation of the on-the-day performances on Wednesday and Thursday. The children are very excited and cannot wait to show off their singing and acting skills. We look forward to seeing you all here at the Model. So, come and join the celebration!
Primary 4 Coding Experts!
Primary 4 had a brilliant time yesterday taking part in the Hour of Code. They were able to choose which activity they wanted to do - 'Star Wars', 'Minecraft' - some pupils even explored the more festive option of 'The Grinch'. Everyone had a great time and some pupils really pushed themselves to get through the levels and complete increasingly difficult challenges. Pupils also supported each other and got their heads together for some paired learning when aspects of the task got a bit tricky - what a great approach to problem solving! They now have personal logins and I hope they will enjoy using specific activities at home as well as in school.
P2 Shared Education

Mrs Mitchell's P2 pupils visited St Nicholas Primary School this week. They enjoyed fun ice-breaking activities. Everyone involved had a great time.
Police Visit P2 Pupils

P2 were visited by three members of the PSNI today as part of our topic 'People Who Help Us'. The policemen told them all about their job and their equipment. It was very interesting.
P5 Golden Time

Primary 5 had fun in the inner courtyard for Golden time on Friday! They explored the amazing range of activities and puzzles available to all of our children.
Primary 3 Terrific Toys

Mrs Johnston's Primary 3's new topic this term is 'Terrific Toys.' This week during Golden Time pupils were allowed to play with their favourite toys. They had a fantastic time.
Primary 3 Terrific Toys
Miss Rea's Primary 3 class started their new WAU topic by bringing in their favourite toys. They had a circle time and talked about why their toys were so special and where they got them from. Pupils then played with their toys for Golden Time this week.
The Ripple of Kindness Assembly
Mrs Robinson's class delivered an assembly on The Ripple of Kindness on Tuesday morning. They performed little sketches and the children had to work out what message it portrayed, eg kindness, manners, trying hard. We had songs, prayers and a birthday celebration to finish! Well done boys and girls... you were grrrreat!
P6 Young Enterprise Business Masterclass
Mrs Hutton's P6 attended the Young Enterprise Business Masterclass event, in association with Mid East Antrim Council, at the Town Hall today. They learnt all about supply chains, how business works, the importance of advertising and designed their own packaging for juice. They even got to meet the Mayor. Great fun was had by all and pupils from the Model were complemented on their entrepreneurial skills when they explained their ideas for setting up their own juice company! Watch out Lord Sugar!
Children in Need
Today was 'Children in Need' day. Pupils and teachers alike came dressed to school in a very spotty-dotty fashion to celebrate our Spotacular theme. Children at the Model helped to raise money by bringing in books to sell AND by selling home-made/ purchased buns. As you can see from the second set of pictures below, the buns went down a treat!!
A BIG thank you to Miss Manson for all of her hard work in organising this event and to the amazing Key Stage 2 teachers who took on the task of making buns in their classrooms!
MAGIC SHOES IN P3
Primary 3 had great fun designing magical shoes. Some shoes enabled us to fly, others allowed us to do massive jumps and some even allowed us to walk up the sides of buildings!
Hedgehogs in Primary 3
Primary 3 made clay hedgehogs as part of their World Around Us topic work. They look like they are having a great time!
Doctor Visits Primary 2 Pupils
Ex pupil Dr Karl Love visited Primary 2 to tell them all about his job. We definitely think he has inspired the P2 children to become doctors themselves!
Young Enterprise
All of Primary 4 were very lucky to have Emma from Young Enterprise come in and teach them today. They explored the concept of 'Community' and thought about what type of business they could bring to the town they were presented with on the board. Children then had a vote about whose business idea was best. Overall the children learned a lot, were completely engaged in their learning and the activities given to them, and they had great fun mixing with their friends in both P4 classes.
Friendship Week
Mrs Robinson's P4 class discussed and sorted pictures showing what makes a good/ not good friend. The pictures were often open to interpretation and they really made everyone think. Plus they made us all consider what type of friend we need to be to each other.
Accident and Emergency Department in P2
P2 have been enjoying playing hospitals as part of their topic 'People Who Help Us'. I definitely see some future doctors and nurses here!
Primary 4 Art Work
P4 have been enjoying working with clay this week. They manipulated the clay and used a range of sculpting tools to make faces of four different members of staff - Mrs Miller, Mrs Beggs, Mr Kirk and Mrs Love. Pupils worked very hard and some pupils learned how to successfully attach a nose to their clay face. I can't wait to see how good they look when they are painted.
MATHS INVESTIGATION
Primary 4 have been enjoying using Cuisenaire to apply their understanding of multiplication. This week they have been learning about Commutative Law and they have had a few challenges thrown their way. As you can see, from the great answers, P4 are doing their teacher proud! Well done kids!
Golden Time

'Just Dance' was a very popular Golden Time choice this week. Just look at the great dance moves!
Active Maths

P3 really enjoyed completing fab maths activities on Fab Friday.
Problem Solving

Primary 2 are enjoying a money problem-solving activity with their carpet learning buddy.
Shared Writing

Primary 2 completed shared writing with a partner. Pupils were helping each other to learn.
Golden Time
Cookery was a popular choice of activity during KS2 Golden Time today. We were too busy to take photos of our skills in action but we managed to catch a few budding chefs enjoying their pizza quesadillas.
Eggnautical Vehicles
Fab Friday in Primary 7 this week centered around the challenge of designing a capsule to keep an egg safe when dropped from a height. Our eggnauts were so successful that we had to conduct a second test from a greater height outside. Toby's team won the prize for the best teamwork and Shiori's group for the best eggnaut design. This bodes very well for some future female engineers!
Special Number Experts in P6!
P6 have been learning all about special numbers such as square, cubed and prime. They worked in groups to build cube numbers, played games to become square number/square root experts and even tested their classmates by making square number fortune teller games! They have learnt so much new mathematical vocabulary and really are Special Number Experts!
Ulster Orchestra Visit
All of KS2 headed to the Waterfront Hall on Tuesday morning to the Ulster Orchestra 'Telling Stories' concert. The packed out concert hall of KS2 pupils from various primary schools were treated to a variety of classical pieces from 'Mars' from Holst's Planet Suite to the crowd-pleasing Harry Potter theme tune. Our thanks go to the Ulster Orchestra and Waterfront Hall for providing this unique musical experience for our pupils.
SHARED WRITING IN P2
Have a look at our P2 'Carpet Buddies' working together to write about their Halloween holidays.
KINDNESS CREW
The Kindness Crew were out and about with Mrs Miller in Carrickfergus on Friday delivering little gifts. What a lovely bunch of children they are! Keep up these great acts of kindness, kids.
PRIMARY 4 WRITING
Mrs Robinson's class worked with their writing partners to edit and improve each other's writing about their Mystery Character. The children used all their skills and strategies in spelling and vocabulary to make the writing INCREDIBLE!!
FIRE SAFETY
Primary 5 enjoyed an informative talk on Fire safety today. The children received information packs to take home with them to spread the important information they learned. What valuable lessons these will be for everyone!
Star Gazing in P7
On Friday P7 were looking at the stars in daylight. They used the SkyView app to locate star constellations by looking up and down(!) whilst walking around the school environment. They had the whole Milky Way in their sights.
P3 Golden Time
Both Primary 3 classes had a great time at Legg Park for their golden time treat this week!
Grandparents Visit Pupils in P2
Some of our wonderful grandparents popped into school to share stories, memories, old photographs, show examples of past currency and much more. The P2 pupils learned a lot and really enjoyed themselves. Our grandparents are such a wonderful resource so keep asking them great questions, kids!
PRIMARY 5 VISIT W5
Have a look at all the fun activities Primary 5 have been experiencing on their trip to W5.
PRIMARY 3 GOLDEN TIME
Primary 3 are having fun in the outdoor courtyard for their Golden Time activity.
PRIMARY 7 PERFORMANCE SKILLS
Here are a couple of brave P7s, in music class, performing a song from our Unit of work on Michael Jackson.
PRIMARY 2 ASPIRING ENGINEERS
These P2 boys are using their imagination and creativity to transform this cardboard box into a boat! They planned and discussed their ideas and are working as a team to create their masterpiece!
PRIMARY 2 SHOW AND TELL
William told us all about Morocco and his Granda's recent trip there. He brought rock and sand samples, various dirham coins and even a receipt printed in Arabic! It was very interesting and we learned a lot!
SCHOOL COUNCIL PICNIC
The School Council had an autumn picnic at Wesley Court today to open their Community Garden.
SUSTRAN'S SILVER AWARD!
Beverly from Sustrans presented us with our Silver Award in assembly this morning. Well done everyone. We will be working towards our Gold Award over the next two years.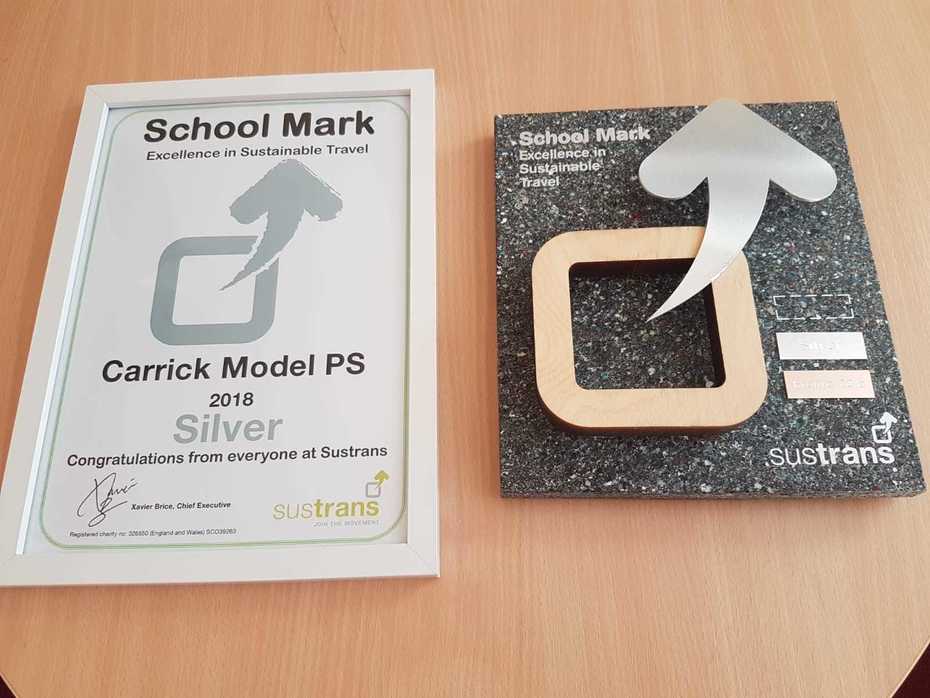 PRIMARY 3 CELEBRATIONS
Primary 3 had great fun during ABL. They have been learning about China. They enjoyed using chopsticks, moving pretend food from one plate to another. They made Chinese dragons, They loved listening to the tale about the Chinese New Year and made the animals in the story using play dough. They even tried building the Great Wall of China with Lego!
RIPPLE OF KINDNESS IN P5
As part of Ripple Kindness today, P5 enjoyed exploring emotions and thinking of words that describe various levels of intensity. It helped us expand our vocabulary and understand better the feelings we experience.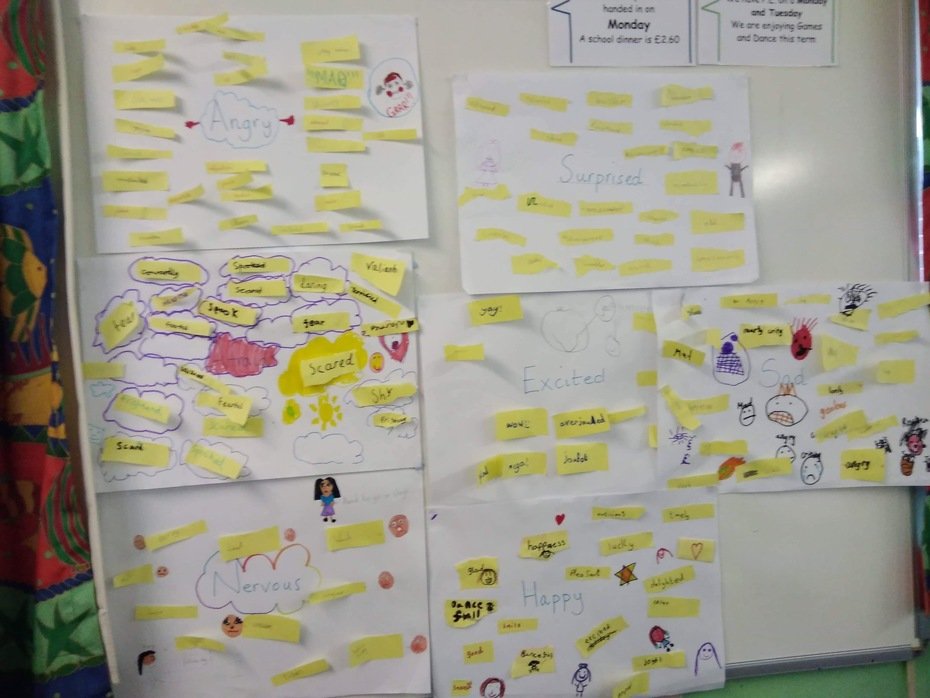 IN THE STEM ZONE
During KS2 golden time this week, pupils were getting things moving by making 'robotic' hands. It's always useful to have an extra pair of hands around :)
SYMMETRY IN PRIMARY 7
Primary 7 have been applying their understanding of reflective symmetry on Fab Friday this week. Using ipads, they captured images of some symmetrical objects inside and outside the school building. Then they used the Photo Booth APP to create some images that look symmetrical at first glance. Can you spot the difference?
Primary 3 Celebrations
As part of our Celebrations topic, Primary 3 have been looking at Chinese New Year. We have been writing facts about Chinese New Year and made Chinese dragons.
P2 Golden Time
Primary 2 enjoyed making puppets for their Golden Time activity this Friday.
P2 Music Time
Primary 2 are learning how to find the beat. They enjoyed listening out for and repeating patterns using instruments.
Primary 4 Engineers

Mrs Robinson's class work as engineers to explore how the playground is constructed. Watch out for our playgrounds built from junk materials!
Primary 2 Activities


This week Primary 2 have been enjoying playing relay games. They have also been practising some important ball skills.
Primary 2
Here are some pictures of Primary 2 enjoying their task board of activities. They look like they are having great fun.
School is Cool in Primary 4
Primary 4 have been enjoying their topic 'School's Cool'. They received four mystery bags from four different members of staff, each staff member having a different job in our school. Pupils had to become detectives; they had to work out, from the clues provided, who owned each bag. Most of the groups guessed correctly but one group just couldn't work out who owned their mystery bag. Well done P4, Inspector Clouseau watch out! Now it is time to complete our write-ups and make clay faces of our mystery characters for Art.
Football Skills in P4
Primary 4 are so lucky to have Daniel from IFA to teach them excellent ball skills and brilliant football related games. Today pupils played Statues, Pac-Man and Bench Football. Pupils had an amazing time and they cannot wait until next week! Thank you, Daniel!
Primary 7 have been working very hard on creating their own papier mâché Solar Systems over the last few weeks. Not quite to scale but the gas giants were definitely larger than the terrestrial planets! Did you know that Earth is the only planet in our solar system where a total solar eclipse can occur?
School Council Representatives


Primary 5 wrote their own manifestos and read them to the class. We then had a secret ballot to decide who would be the class representatives for the school council. Emily and Tom received the most votes. Congratulations to them!
ICT in Primary Five

Primary 5 have been working hard in the computer suite composing Skeleton acrostic poems!
PRIMARY TWO
Have a look at how P2 have been learning to balance and travel during PE activities.
Fab Friday in Primary One
Have a look at all the fabulous things P1 have been getting up to on Fab Fridays!
P6 Fruit Salad Fab Friday
P6 have been looking at healthy eating and learning all about the different food groups, balanced diets and what our bodies need in order to stay healthy. We have been discussing the importance of getting our five a day and made fruit salads to help understand how easy, and tasty, it is to eat lots of good fruit! Obviously we had to try them out after all the hard work we put into making them. Hopefully some of our P6 pupils will use these new skills at home to make a lovely, healthy treat for their families!
Harvest Baskets
Look at the lovely harvest baskets lovingly put together by our pupils for our Harvest Assembly. After taking care to make up the baskets pupils thoroughly enjoyed delivering them to local residents. I think the pupils enjoyed delivering them as much as the residents did receiving our guest callers. Well done children.
Primary Two News
Primary two chose a trip to Legg Park as their Golden Time treat this week. The weather really showed up for them today. They look like they had a great time on the equipment together.
MEASURING AROUND SCHOOL
P7 took advantage of the sunshine today to take numeracy problem solving outdoors. As part of Fab Friday, all of P7 were working together in groups around our school grounds to consolidate their learning on area and perimeter.
HARVEST ASSEMBLY
Today we celebrated Harvest in assembly. Pupils took turns to read bible passages and recite poems; they reminded us how fortunate we are compared to people in other poorer parts of the world. Everyone enjoyed singing and contributing gifts to others.
HARVEST SCARE CROWS
P3 have been busy making scarecrows to decorate the assembly hall for our harvest assembly on Friday. Just look at their wonderful creations!
PRIMARY 7 RESEARCH
P7 Mrs Kirkland have been working very hard on their group research on our solar system. They are eagerly awaiting the results of our independent adjudicator tomorrow morning - a night off homework is at stake!
Primary Four Writing

Mrs Robinson's class enjoyed a shared writing session this week! The pupils' creative juices were overflowing!! After a shared session, they wrote their own pieces and then they helped edit each other's work. It was so much fun...P4 can't wait until the next lesson!!
PBL IN PRIMARY 2
Have a look at the range of activities P2 have been doing in Play Based Learning this week.
P5 Healthy Kicks
Primary 5 are enjoying Healthy Kicks with Mark from Burns Skills School. I think they are all getting fitter and stronger.
Primary 3 Physical Education
Primary 3 have been practicing their throwing and aiming during PE. We played aiming games and got points if we got our beanbag into the targets.
PRIMARY ONE NEWS
Primary One love visiting the library every week as you can see from the lovely pictures below.
You will also notice that P1 are enjoying learning mathematics. This week they have been making sets using lots of different sorting materials.
PRIMARY FOUR NEWS
Primary 4 love maths challenges. They have been enjoying games and extension activities using Active Maths resources. Furthermore, pupils have enjoyed using their counting on strategy to work out change from 50p and 100p.
MEASURING IN P5
Primary 5 have been learning to measure using rulers, metre sticks and tape measures.
PRIMARY THREE RICE KRISPIE BUNS
P3 have been learning about Instructions. They followed instructions to make Rice Krispie buns. They had great fun and the buns tasted delicious.
GOLDEN TIME
Pupils in the STEM zone were hard at work constructing lollipop catapults. Most missiles launched were better at gaining height than travelling distance!
JOYFUL NOISE
Have a look at what a great time pupils are having in this fun-filled action-packed after school club. Doesn't it make you wish you were back at school again?!
Legg Park Visit
Primary 4 enjoyed visiting Legg Park today. They looked at the shapes and discussed the recycled materials they would need to collect in order to build junk parks during ABL. They had a great time playing on the equipment before we left to come back to school.
Primary 4 Activity Based Learning
Mrs Robinson's class were busy today building a playground out of lego during ABL.
Primary 2 Tasting Tables
Pupils enjoyed tingling their tastebuds and awakening their senses at the tasting table today. Just have a look at all the wonderful facial expressions!
Primary One
Miss Manson's Primary One class have been having a great time learning lots of things through Play Based Learning. Have a look at them interacting with their peers in the two slideshows below.
P5 Memory Boxes
P5 decorated shoe boxes to make memory boxes. Here they are explaining to the class what they decided to put in their memory box and the reasons why. Items included special letters, first teddy bear, first medal at sports day etc.
Healthy Kicks PE
Mark from Burns Skills School is taking P5 for PE every Tuesday morning. Pupils are learning about the components of fitness – power, balance, agility, co-ordination and flexibility.
Primary 5 Learn Spanish and French
Four students from Carrickfergus Grammar, who are studying French and Spanish, visited P5 on Wednesday morning to teach them the colours in Spanish and the body parts in French.
PRIMARY 4 LIBRARY VISIT
Primary 4 thoroughly enjoyed their visit to Carrickfergus Library today. They learned all about how to find books in the library, the different types of books on offer, how to join a library and the many different ways a person can be involved in library life and activities.
Furthermore, pupils were tested on their alphabetical ordering skills - they would have made their P3 teacher very proud as they showed an excellent understanding of ordering, even to the second letter!
Everyone, including the lovely parent volunteers, had a great time. We especially enjoyed the reading from David Walliams book 'The Demon Dentist'!
ALL ABOUT ME IN PRIMARY 2
Primary 2 have been very busy lately. They have been enjoying problem solving activities, drawing, balancing activities and lots of other exploratory learning in the outdoor learning area.
In addition to this they have been making face biscuits and have been making important decisions whilst doing this creative task. The biscuits look really yummy.
Well done P2! Keep enjoying the learning here at the Model and keep working hard.
Paul Cookson Visit
Today our sides were splitting with laughter as Paul Cookson, the poet, visited the Model. He read poems from his three poetry books and had pupils and teachers wiping their eyes with laugher. Dab Dad, T Rex, The Zoo, Sick in the Sink and other such themed poems were thoroughly enjoyed by all. We really hope that he comes to our school again as he really inspired our pupils.
LEARNING IS FUN IN P1
Have a look at Primary One enjoying the outdoor play area with it's lovely new protective roof. It is great that our pupils can learn and explore in this environment whatever the weather is like. What brilliant P1 learners we have here at the Model.
Also, take a look at them enjoying feet painting activities for Art and exploring some maths concepts through looking at height.
DANCERS OF THE WEEK
Congratulations to these two dancers who Burn's Skill Ltd coaches have chosen as 'Dancers of the Week'. Well done!
PRIMARY 5 'HEALTHY KICKS'
Primary 5 have been enjoying the 'Healthy Kicks' programme brought to school by Burns Skills School coach Mark. Today we tested ourselves in Power, Balance, Agility, Co -ordination and Flexibility. After six weeks of fitness training we will do the tests again to see if there is any improvement!!
PLAYERS OF THE WEEK
Congratulations to these two players who Burn's Soccer IFA Football coaches have chosen as 'Players of the Week'. Well done!
Model Pupils Help the Environment
Have a look at these brilliant pupils who are helping to shape our future one small step at a time. These pupils are braving the elements to take part in a local beach clean at Carrickfergus Castle. This event was organised by the council.

Outdoor Learning Area
Thanks once again to our helpers at the weekend. Now the area has been landscaped we can now fundraise for outdoor learning equipment. We can't wait for the children to use it!
Memory Boxes
Here are some photos of P5 completing a creative task this week on Fab Friday. They are wrapping memory boxes! This was a challenging task in many ways and it required lots of teamwork. Well done P5!
PRIMARY ONE
What busy bees Primary One are. Just have a look at the fun they are having and the great work they are doing in the Model!
PRIMARY ONE - ALL ABOUT ME!
Have a look at our lovely new P1 children. They have been taking part in lots of fun, interesting play based-activities.
These pupils in Mrs Morton's class have been creating water pictures, making beautiful colourful paintings, enjoying some cooking related role-play, completing number puzzles and acting out some dramatic puppet shows amongst many other things. They are settling in very well to life at the Model. Keep up the great work P1!
SHARE CENTRE TRIP
As you can see from the photos below P6 have spent their final hours at the Share Centre climbing, playing archery, sailing, jumping into the water and much more. (It looks like they enjoyed a nice meal and some dancing last night too.) I'm sure they have made memories for life!
SHARE CENTRE TRIP
P6 were active all day on and off the water in the glorious sunshine again today - canoeing, banana boating, laser tag in the forest, mountain biking, sailing, archery and the climbing wall. We're not done yet... the disco's still to come!
The Model's Got Talent!

Primay Four created their own version of the famous talent show today! Pupils from Mrs Robinson's class displayed a range of talents including gymnastic displays, dance routines, ball skills, accompanied piano pieces and violin playing! The pupils performed to an enthusiastic, supportive audience, and judges Ellie, Charlie and Joel gave extremely positive feedback and words of encouragement to everyone who took part. Well done to one and all! This could be the start of something!!
SHARE CENTRE TRIP
Have a look at the activities P6 have been getting up to at the Share Centre today. They have been practising their archery skills, they have been rock climbing, using a water slide and cycling too. It looks like they are having a brilliant time.
We all look forward to tomorrow's next installment!
FOOTBALL FESTIVAL
Today P3, P4 and P5 really enjoyed taking part in a Football Festival run by IFA coaches. Here are some pictures of both P4 classes in action.
Swimming Success!
An early start, after a very exciting and late journey back from Northumberland, didn't stop P7s, and an honorary P6, from giving it their all at the School Swimming Gala. Medals came in all strokes, with some very close races and a second place trophy, in a nail biting relay race! A fantastic morning ended on a high, when pupils from the Model, for a second year in a row, were named overall winners of the Gala! A big thank you to all the parents who showed up to give lots of support and cheer us on!
Congratulations to Saria Ogilvie and Daniel Harvey competing at the Ulster Schools Minor Swimming Gala. Saria had a fantastic start at her first Ulster competition coming 9th in a large class. Daniel amazed us all getting Silver in the 50m backstroke and Gold in the 50m freestyle!! We are very proud of you both!!
Overall the pupils won medals, a second trophy for the relay and won overall swimming gala shield as we earned the most points.
NORTHUMBERLAND TRIP
P7 set off for home on Thursday with a couple of stops along the way. After visiting the Sea Life Centre, they ventured on to Gretna Green shopping outlet to buy some last minute gifts. Although the boat was delayed, P7 were in high spirits as Mrs McCullough put them through their paces while we waited & those with any energy left sang the rest of the way home. P7 pupils were a pleasure to spend with this week and were often complimented on their manners, good behaviour & enthusiasm for the tours and workshops undertaken. Well done P7!!
P7 NORTHUMBERLAND TRIP
After a very early start and a lovely smooth sailing, P7 have safely arrived in Boldon. They had lots of fun at Dalscone Fun Farm this afternoon and they are looking for to St. James Park Stadium a visit to Alnwick Castle tomorrow.
Trip to Greenmount
Have a look at the different activities P5 got up to on their recent trip to Greenmount. They identified forest mini beasts, went on a mini beast hunt, went walking in the maze, took part in some pond dipping and had a lovely lunch.
P6 OUTDOOR LEARNING

P6 have been taking advantage of the lovely weather and have been putting their learning about measures into practice. They have been calculating the area and perimeter of something as small as a paving brick and as large as the running lanes for Sports Day. They were busy estimating and measuring capacity, measuring the radius and diameter of the rainbow above the Friendship bench and using the maps and height charts in the playground to think about scale and averages.

What a fabulous way to learn at the Model!
Northern Ireland Electricity
Key Stage 2 pupils received a talk from NIE on Tuesday morning on staying safe around their electrical equipment in our environment. Pupils were offered advice on what to do if, for example, their ball was kicked into a sub-station and pupils were asked to be aware of overhead powerlines when flying kites or drones. They were also shown real life examples of the effects of electrical current flowing through everyday items such as a kite caught in a powerline. We hope this advice will help to keep all our older pupils safe this summer.
SPORTS DAY AT THE MODEL
Well done to everyone who took part in Sport's Day today. The weather was really on our side and it helped many of the P7 pupils and their teachers dry off today, after the water race! Each pupil gave their best and had a go and everyone was determined to finish each race. We are all very proud of your many achievements today so keep running all the races that life brings and keep up the great team spirit that was shown today.
Our thanks go out to everyone who played their part in organising and running this event, especially our PE Coordinator Mrs McCullough!
WALK TO SCHOOL WEEK
It's 'Walk to School Week' and lots of pupils have been getting on board our walking buses and have been walking to school with their parents and teachers. Have at look at some of our fabulous walkers in the pictures below.
If you haven't hopped on board yet you still can join us on Wednesday and Thursday morning at Carrick Castle at 8:25am!
Keep up the great walking everyone!
P6 VISIT THE LOCAL LIBRARY
On Monday P6 visited the Carrickfergus Library. Our thanks goes to one of the librarians and a P6 parent, Mrs Millar, who explained to the pupils how fiction and non-fiction books were organised in the library.
Pupils undertook activities with familiar author names and with using the Dewey Decimal System. Carrickfergus Library also has a dedicated Accelerated Reader section which was great for our avid P6 readers.
Mrs Millar also demonstrated the ebook and audiobook online borrowing facilities provided by LibrariesNI. Some pupils returned to school carrying the books they borrowed from the library during our visit.
P6 were immersed in a day of Viking life and culture today. Pupils had opportunities to take part in: brooch making, writing in runes, weaving, tasting Viking food, playing traditional games, an archaeological dig of a Viking settlement, sword drills and shield wall training and finally a little Viking green screen as a record of our busy day of learning!
Have a look at all of these exciting actives in the pictures below!
P2 REACH FOR THE STARS
P2 have been really enjoying their current topic all about Space. They went to Armagh Planetarium to learn lots of interesting space facts. They also shared facts about space during Show and Tell. Have a look at all these fun activities in the pictures below.
OUTDOOR LEARNING WITH P2
Primary 2 pupils have been really enjoying playing outdoors in the school courtyard. Have a look at them solving puzzles together, playing in the sand pit, using the puppet show and having a good bounce around on the space hoppers.
EGYPTIANS, STEM AND SHARED EDUCATION
Have a look at what P5 have been doing as part of their topic 'The Egyptians'. Pupils had to follow instructions, make water fillers and construct reed boats. It really looks like great fun!
PUPILS MEET THE AUTHOR
P1-4 pupils enjoyed meeting the author Hilary Bailey in assembly this morning. She read excerps from her books, which are set in local locations, and she told pupils about the main character in her books, her own pet dog. The children enjoyed being able to ask her questions after they watched a presentation and listened to some stories.
PRIMARY 6 TAKE FLIGHT
P6 went on a trip on Wednesday to Colin Glen Adventure Centre, as part of the Model's Shared Education programme.
They enjoyed the low ropes course, climbing activities and 'flying' down from the top challenges. The trip was to complement their learning on Bridges and Flight.
The photos below show what a fantastic adventure they had.
Rock and Roll dancing makes a come-back at the Model!
Primary 4 have been learning all about life in the 1950s. They have been exploring housing, décor, fashion and music as part of their topic 'Houses and Homes'. For weeks now they have been practising 1950's dance moves such as the jitterbug and the jive. Have a look at these 1950's kids having a great time as they rock around the clock!
CONGRATULATIONS KS2 READERS!
Well done to these fantastic readers! They received certificates in assembly this morning for the progress they are making in our Accelerated Reader programme. Everyone at the Model is so proud of you! Keep up the great work!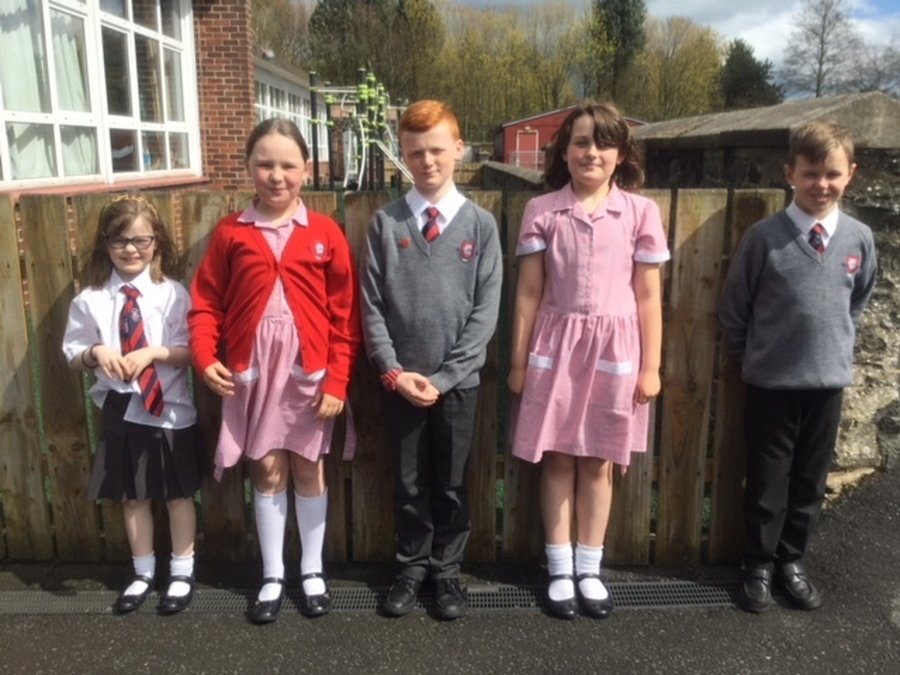 P4 INVESTIGATE
P4 have been learning all about electricity as part of their topic Houses and Homes. They have been finding out about how electricity is made and where it comes from. Pupils have been exploring the dangers inherent in using electricity as well as how to stay safe around electrical appliances. Furthermore, pupils have been discovering how to make a circuit.
Look at the photos below to see these P4 scientists in action!
THE DAILY MILE
All pupils in the Model are taking part in The Daily Mile between now and the end of June. They have been really enjoying this time out-of-doors to get fit and to chat to their peers and teachers. The P5 pupils have been walking and talking to the children from the junior school and have been making new acquaintances in the process.
To find out more visit www.thedailymile.co.uk
PRIMARY 6 TAKE FLIGHT
P6 visited St Nicholas Primary School and took part in a range of scientific investigations all linked to their current topic 'Flight'. These super scientists learned how to use code to make drones fly and they also made balloon powered cars.
Have a look at them in action in the pictures below.
MODEL MILLIONAIRES
Congratulations to these fabulous pupils; they have each won a prize for their commitment to reading. These children have reached the amazing target of reading one million words! Exemplary work Key Stage 2 readers!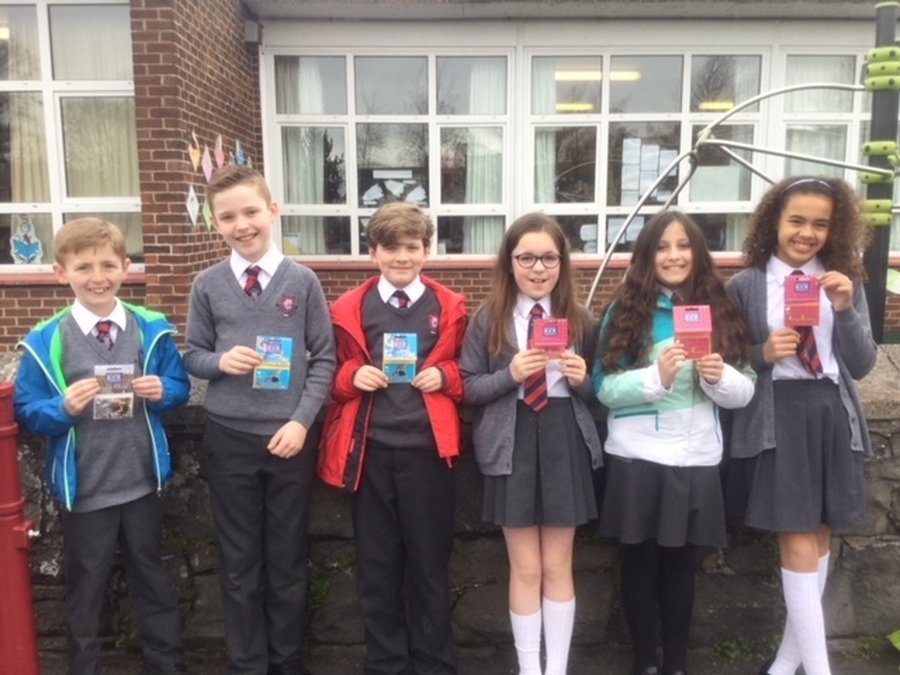 A SUCCESSFUL RUGBY TOURNAMENT FOR OUR MODEL BOYS!
The boys enjoyed a sunny day at Ben Madigan at the Area Tournament. We started as the underdogs with the only team fielding P5's but that didn't seem to hold us back! From the off we dominated the match beating Greenisland Primary with ease. Next we faced Templepatrick, a stronger opponent but we held ourselves together and triumphed in another win. Fairview was next but once again the boys rose to the challenge fending off a larger pack to get the win. The final game of the day was against Greenisland for a second time. We ended on a high leaving the tournament undefeated with an unblemished try line!! Thank you to all the supportive parents and grandparents.
TENNIS FUNDAMENTALS
The coaches from 'Tennis Fundamentals' visited our school this week. Have a look at the great fun the pupils in P4 and P5 had smashing any challenges that came their way!
Silence please...
QR CODE TRAIL
Pupils from St. Nicholas came to our school and took part in a QR code trail with their Model friends.
Pupils found out great facts about animals and their habitats by both independently using a search engine in the computer suite and then going off the beaten track and using the QR code trail around the school.
The pupils did a brilliant job of recording the facts and then producing a fabulous factual, colourful poster using Comic Life.
At the end of their journey (competed in one morning!) they used Airplay to share their final master-pieces on the Clevertouch board for their peers to see.
WELL DONE P4!
P4 CAROUSEL TO LEARN ABOUT 3D SHAPE
P4 have been learning about 3D shape. They have been looking at the properties of a sphere, a cylinder, a triangular prism, a square based pyramid, a triangular based pyramid, a cube and a cuboid.
In the pictures below pupils were moving around the classroom exploring a new 3D shape every time they arrived at another work station. When the timer went off it was time to carousel, clockwise, to the next 3D shape and fill in the properties on the large grid. After pupils had travelled 360 degrees around the room they gathered on the carpet to feed back their answers to the rest of the class.
After this pupils explored nets of 3D shapes and completed a writeup on a specific 3D shape.
GREAT WORK P4!
YOUNG ENTERPRISE AND PRIMARY 7
P7 participated in the Young Enterprise NI 'Business Beginnings Trade Fair'. They have worked hard, since January, with their volunteers to make business plans, decide on a business idea and name and then produce their final products.
They have been learning all about profits, loss, projections, the roles in a business and reinvestments. The programme ended with a trade fair at the Abbey Centre, just before Easter, and both P7 classes sent their sales teams. 'Duster Ducks' and 'Hutton's Little Daffodils' went along and worked tirelessly at promoting and selling their products. Both classes sold all of their products and after calculating and paying expenses, both made a profit! The hard part now is deciding what treat to spend our hard earned profit on!
PRIMARY 7 AND NI OUTREACH
The Northern Ireland Assembly Education Officer visited P7 to tell them about the Assembly. P7 learnt about constituencies, who our local MPs are, what MPs do and how they can help us. P7 also learnt about the voting system in N.I. and watched a video showing them what the inside of Stormont looks like. Some pupils gave a political party speech and tried to convince their classmates to vote for their Party. P7 then took part in a class election and watched how the voting system works.
MARY POPPINS PERFORMANCE
Have a look at these great pictures taken of our Mary Poppins performance in March. The children did a fantastic job and raised the standard of acting, dancing and singing in our school. The talent demonstrated by all of the pupils exceeded our expectations. They dazzled us, moved us and enthralled us by their performances. Well done Model pupils!
P6 STEM ACTIVITIES
Primary 6 have been very busy making bird seed cake to encourage some feathered visitors for their Big Bird Survey.
Have a look at their hard work in preparing the bird cakes and the holders in the pictures below. We are all looking forward to hearing about the survey results!
CREATIVE P4 PUPILS
Primary 4 have been studying 'Houses and Homes' as part of their 'World Around Us' topic. They have been creating shoe box bedrooms.
Have a look at their amazing creations - there are some lovely original ideas in each room. Well done P4!
Some pupils also used this opportunity to take a bird's eye view picture of their room as it just so happened that we were looking a 'plans' this week too.
P4 INVESTIGATE
Primary 4 have been exploring Symmetry and Tessellation. They have been using 2D shape wooden blocks, multilink cubes, peg boards, letters, picture cards, symmetry dominoes, RM Colour Magic, symmetry blobs (with paint) amongst other things.
Have a look at some of their investigation outcomes - they have made some lovely creative pieces of maths work. Well done P4!
OUR NEW FRIENDSHIP BENCH
Have a look at our lovely new friendship bench. This idea came from the children in the school council.
At the Model we are encouraging children to always include others. If someone is feeling alone or left out they can sit on the friendship bench. Someone will then come and talk to this person and offer to play with them.
What an excellent decision the school council has made!
WORLD BOOK DAY PRIZES
There was an assembly today to award prizes to pupils who wore the most creative costumes on World Book Day. Have a look at our proud winners.
ACCELERATED READER - LATEST AWARDS
CONGRATULATIONS to this week's accelerated reader certificate winners. What good timing that they received their awards on WORLD BOOK DAY!
WORLD BOOK DAY
Pupils at the Model have been very busy and very creative today as they celebrated World Book Day AS WELL AS Disconnect Week.
Children and teachers came to school dressed as their favourite story book character. There was also a special assembly for P4-7 to celebrate this special day.
Pupils also used the c2k Newsdesk to vote, access videos made by their peers and to link together with pupils from other schools to celebrate World Book Day.
Furthermore, pupils from the senior end of the school visited junior pupils in their classrooms and read to them. Have a look at these lovely pictures showing this shared approach to reading together. What a lovely way to connect with one another!
P2 Arctic Play Based Learning
From completing World jigsaws to painting Arctic animals, P2 have had an amazing Arctic time!