Recent events
Have a look at some of the special occasions that have taken place at Carrickfergus Model recently. There are always plenty of things happening around our school.
P4 Shared Education
This week pupils at the Model went to St Nicholas' Primary School to partner up with the other P4s there. Children from Sunnyland's Primary School came too. Everyone had a fabulous time reuniting with each other.
It was a fun packed day filled with games and creative activities. Pupils particularly enjoyed playing the parachute game together as well as an Art activity where pupils drew a portrait of each other.
We cannot wait for our next get together! Have a look at our pictures, they tell the story themselves!
The Magic of Christmas
This week pupils at the Model went to see the Ulster Orchestra and Belfast Philharmonic Choir perform 'The Magic of Christmas'. Pupils enjoyed hearing all the usual and most popular melodies. In the pictures below we can spot a few pupils doing actions to the 'Twelve Days of Christmas'. A great time was had by all in attendance.
CHRISTMAS CAROLS
Here are a few photos to show you what our school choir were doing over Christmas. The pupils went out and about in the local community to spread some Christmas magic and Christmas cheer by singing carols and popular Christmas songs. Pupils visited a Senior Citizen's dinner at the Loughshore Hotel, Burleigh House Nursing Home, Danske Bank and Wesley Court and Abbeyfield's Sheltered Housing.
Thank you to all of the venues involved and for their warm welcome and hospitality. The pupils and staff had a great time!
ECO POSTER WINNERS
Congratulations to these pupils for creating the 'Best Energy Saving Posters'. Their creative posters displayed great ideas and top tips for us all as to how to help conserve energy and look after our school environment. The posters are now displayed all around the school so that other pupils can take this good advice on board. Well done P4, P5 and P6 for keeping us all challenged and focused on this important message.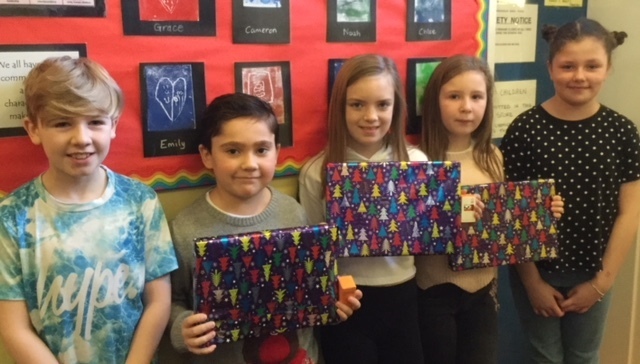 CONGRATULATIONS P5!
Congratulations to Mrs Boyd's P5 class for being the winners of 'Switch Off Fortnight'. These children have been taking care of our school and our planet by switching off lights, monitors, whiteboards and much much more. They have now earned an extra 10 minutes of play time due to their care for our environment.
Keep up the great work eco warriors!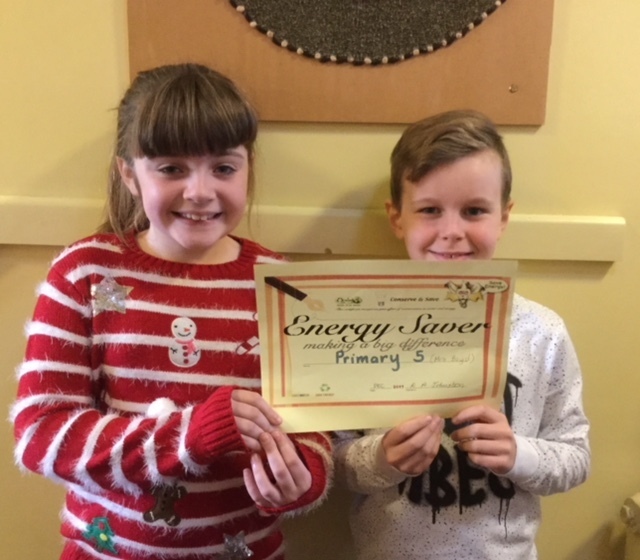 SNOWMEN ART in P5
Have a look at what P5 have been getting up to this week. They look like they are having a brilliant time making fabulous Snowmen. Just have a look at their master-pieces below!
It's beginning to look a lot like Christmas...
A CHRISTMAS CELEBRATION
P2-P4 are really enjoying their Christmas Carol Service so far. This morning they performed their first show to their mums, dads, grannies and grandas and they have been buzzing about it ever since.
Have a look at some behind-the-scene photos and then of course some pictures of the big finale performance on stage.
We look forward to seeing you all again tomorrow and on Thursday. So... 'Come and Join the Celebration'!!
HOUR OF CODE...
Last week pupils at the Model tried to solve all manner of problems by taking part in an 'Hour of Code'.
Each class from P4 upwards were invited to solve many problems and over come many difficulties by participating in a Minecraft online challenge.
Pupils had to watch a video which set the scene and the context of the problem. Then pupils either worked independently or, if they preferred, in groups to create a number of solutions until they had completed all the steps to finish the task.
Below you can see some of the pupils who finished first and received online certificates because they were excellent coders! Well done!
Congratulations to our Competition Winners!
Well done to these pupils for their well thought out and creative anti-bullying posters. These posters remind us what we can do to stop bullying and they give us good advice on how to behave like a true super hero would - 'Be a buddy not a bully.'
Have a look at these 'SUPER' posters...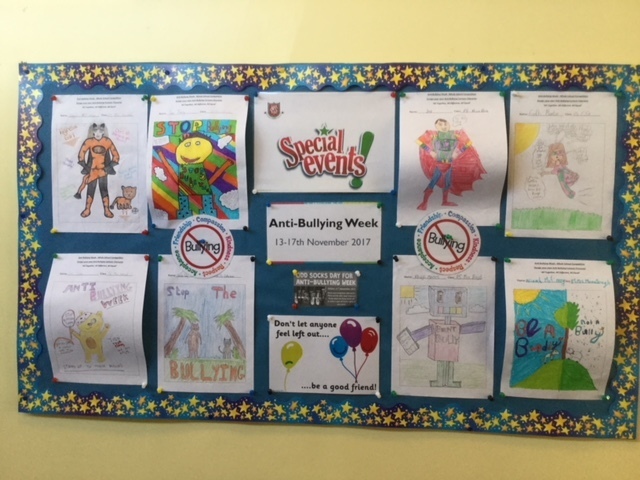 Odd Socks Day
Today, Friday 17th November, pupils in the Model acknowledged and celebrated their uniqueness by proclaiming, "We are different but we are equal." This week was anti-bullying week and so we decided to celebrate what makes us different and how good being different really is. This was the focus of our assemblies this week led my Miss Manson and Mrs Miller.
We also explored issues such as how to be a good friend, what makes us happy and sad, how we can help others and how important it is to not keep worries inside us but instead to talk to someone.
Pupils showed how being different is great by coming to school today wearing odd socks. Here are some pictures of their socks, yes their socks...so see if you can spot any socks you know! (And yes the teachers took part too!)
Remembrance Day Assembly
Reverend Cooke visited our school this morning to talk to us about Remembrance Day. She talked to P1-7 about WWI and WWII and reminded us all about the importance of the cross. Mr Clinton then played 'The Last Post' on his trumpet which was followed by a minute's silence.
Young Enterprise NI
On Thursday 9th November Primary 4 were visited by a member of Young Enterprise NI. The pupils had a great time learning about what a community is, how to build a community, what taxes are and how people are paid. Pupils had to work together as a team, share ideas, make decisions and vote on important issues. Each task offered important learning opportunities and encouraged the use of thinking skills, social skills and Numeracy skills. The pupils really enjoyed the variety of activities taught by Emma and they thanked her for her fun interactive lessons. It was a great experience for everyone.
Primary One
Primary One pupils have been very busy throughout their first half term. They have been acquiring important Literacy and Numeracy skills through a wide range of play based learning opportunities.
Just have a look at the many things that they have been doing.
Trip to W5
Primary 5 have been very busy again! This time they have been exploring the many activities on offer at W5. Take a look at all of the things that they have been up to.
Harvest Assembly
On Friday the pupils and staff in Carrick Model came together for an assembly to celebrate 'Harvest'. Pupils from different year groups read scriptures and said prayers. They shared Bible parables and groups of pupils told us stories to help us understand how fortunate we all are. Pupils sang their favourite harvest songs and performed an interactive harvest poem.
Primary One joined us a little later showing the true spirit of giving by bringing in cans of food for the harvest table. The hall was beautifully decorated with pupils' harvest art work, flowers, fruit and carefully arranged cans of food to show how much we all value the importance of giving.
As always, it was a lovely thought-provoking assembly.
Primary 5
One of the Primary 5 pupils enjoyed her visit to the local community so much that she drew a picture of one of the resident's pets that she saw. Here is her master piece.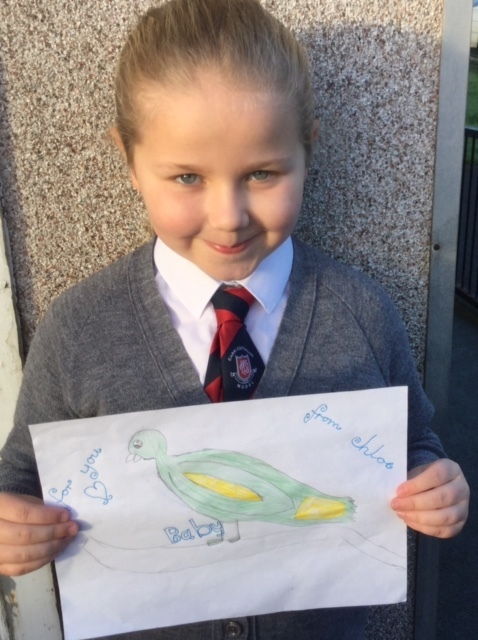 Harvest Baskets
Primary 5 pupils worked very hard on Thursday to make harvest baskets filled with lovely fresh fruit. The pupils put lots of tender loving care into wrapping the baskets and to ensuring a well presented final product. On Friday, after the harvest assembly, the pupils and their teachers then delivered the baskets, and some fresh bunches of flowers, to members of the local community. The pupils really enjoyed the whole experience.
The Book Fair
Pupils at Carrick Model thoroughly enjoyed the Book Fair when it came to school this Friday 13th October. Just have a look at the pupils' happy faces as they hold up some of their favourite book choices.
As always, a massive thank you is due to the people who work hard behind the scenes, and on the day, to make the whole experience so enjoyable for the pupils.
Congratulations Fundraisers!
On Friday 22nd September pupils at the Model had a non-uniform day in order to raise money for Noah and Gracie Coates. Pupils raised £1,530. Well done everyone!
Noah and Gracie are from a local family. They suffer from a very rare genetic condition known as Vanishing White Matter Disease. They are the only two known cases in Northern Ireland at present.
Here are the pupils on their non-uniform fundraiser day.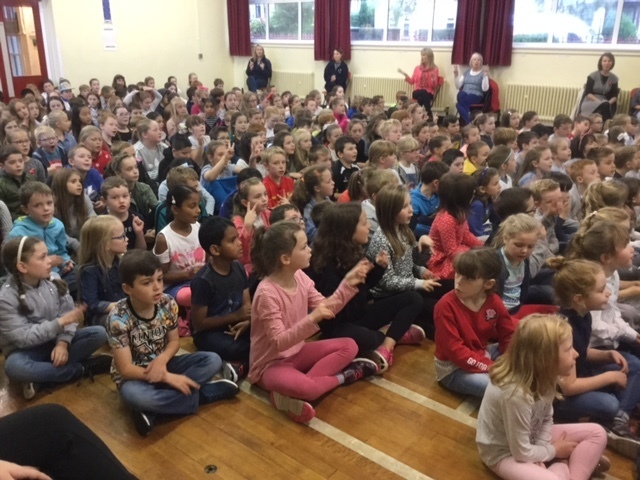 New Hive Hackers in P5-7
Have a look at what Primary 5-7 have been learning in ICT. These pupils are taking part in a seven week computer programming course run by PWC. The course is helping our pupils to acquire important coding skills such as writing algorithms, sequencing, looping as well as how to use conditionals. In essence the pupils are learning a whole new language as well as how to develop a mindset for coding. Just look at the concentration on their faces as they work out what they need to do next. There is little doubt that important problem solving skills are at a maximum in the pictures below!
A big welcome to our new P1 pupils. Just have a look at how well they are settling in to life at Carrick Model Primary School.
Translink Bus and Train Week - 5th-11th June 2017
As part of Translink's Bus and Train Week, our P3, P5 and P7 pupils visited Carrickfergus Railway Station where they were given an insight into current and previous operations at the station and were also taught about railway safety. This was a very informative trip and the kids were delighted to get a goody bag to take home!
ECO flag award
Congratulations to Mrs Falconer and the school ECO Council on achieving the ECO flag award once again. Worthy recgntition of all the hard work undertaken by Mrs Falconer and her ECO councillors - Shannon Jess, Stuart Crooks, Erin Walker, Emily Magill, Jayden Hamilton, Ben Palmer, Anya Laughlin and Alex McGrew. Well done everyone!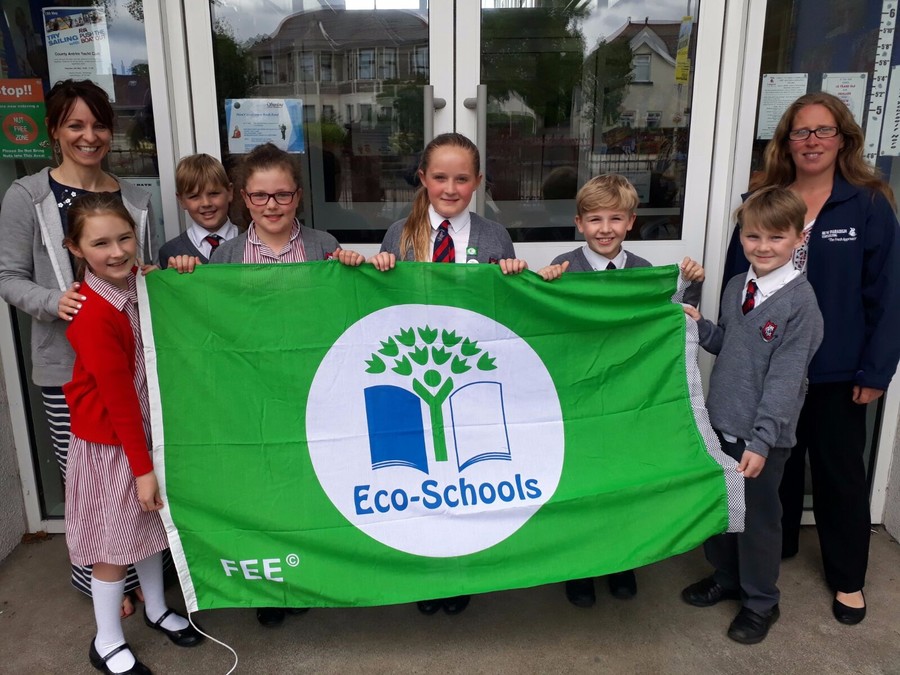 Almost £3000 raised at the PTA Fun Day 2017 - a massive thank you to all our parents and pupils!
Rugby @ Ravenhill
On Wednesday 10th May, the P6/7 rugby team participated in a mini rugby tournament at Ravenhill. The glorious sunshine enabled the boys to show off their smart new kits as well as their rugby skills on the pitch. Our thanks goes to Bill Crymble, financial director of Forever Living for sponsoring our fabulous new attire and to Mr & Mrs Cowden for providing kit bags, perfect for keeping them organised between matches. The boys were paid many compliments at the tournament for how professional they looked and for how well they played.
Creme Egg Creations
Just before the Easter holidays, we held a competition to create a scene involving creme eggs. We evidently have lots of creative families in school and all our staff and pupils thoroughly enjoyed admiring each masterpiece. Well done everyone!
Primary 2 are out of this world!!
P6 Viking Day
Primary 6 were able to have their Viking Day in glorious weather this year - perfect for a Viking shield battle in the school field! They also enjoyed tasting Viking food, making Viking crafts and playing indoor and outdoor traditional Viking games. It was very difficult to choose winners for the best costumes but we were in no doubt who are vicious Viking warriors were in the afternoon!
P7 London Trip - April 2017
P7 had a great time in London before Easter. They went all over the city from the Natural History Museum to Buckingham Palace, from Hamleys to Wembley Stadium. They even had time to catch a show or two along the way.
It's not even fun day yet, still a bouncy castle was inflated in the school Assembly Hall for P1, 5 and 7 pupils to enjoy as a treat for winning the 'Class of the Month' school award recently. Some parachute games took place alongside the bouncy castle, with 'sharks' being a firm favourite amongst the kids! Keep up the hard work and super behaviour you lot!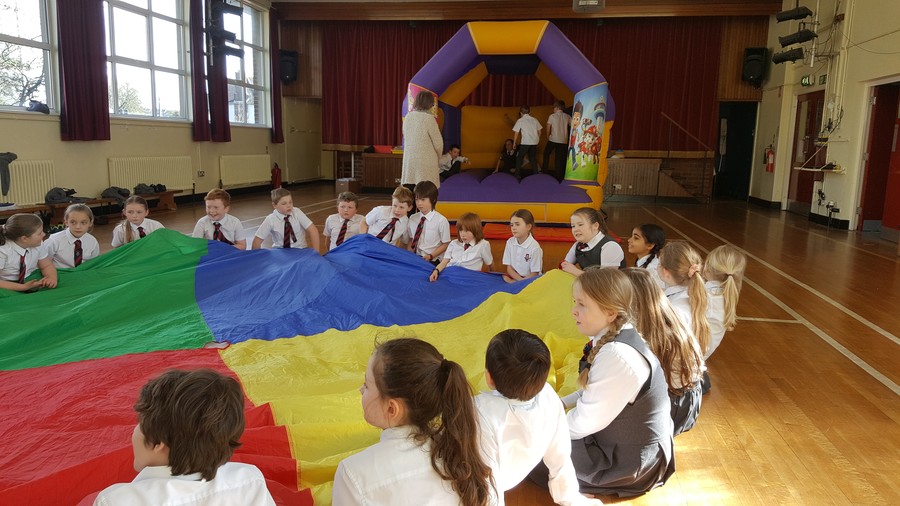 World of Owls visits Primary 6
As part of their most recent topic on Birds, Primary 6 had a visit from World of Owls. As well as bringing the very famous owl from Harry Potter, he also had a few additional creatures for P6 to see and touch! There were a few very brave pupils as you can see
On Friday 17th March, P5 pupils and staff came into school dressed up and ready to take part in the annual 'Egyptian Day' extravaganza in the Assembly Hall. A wide range of activities were available, including Egyptian themed arts and crafts, STEM activities, dance, food tasting and green screen fun! We had a great day! Thank you for all your effort in getting the children ready for the day. Take a look at what we got up to! Some P1 and P2 pupils even got in on the action on their way home!...
St. Patrick's Inter Schools Showjumping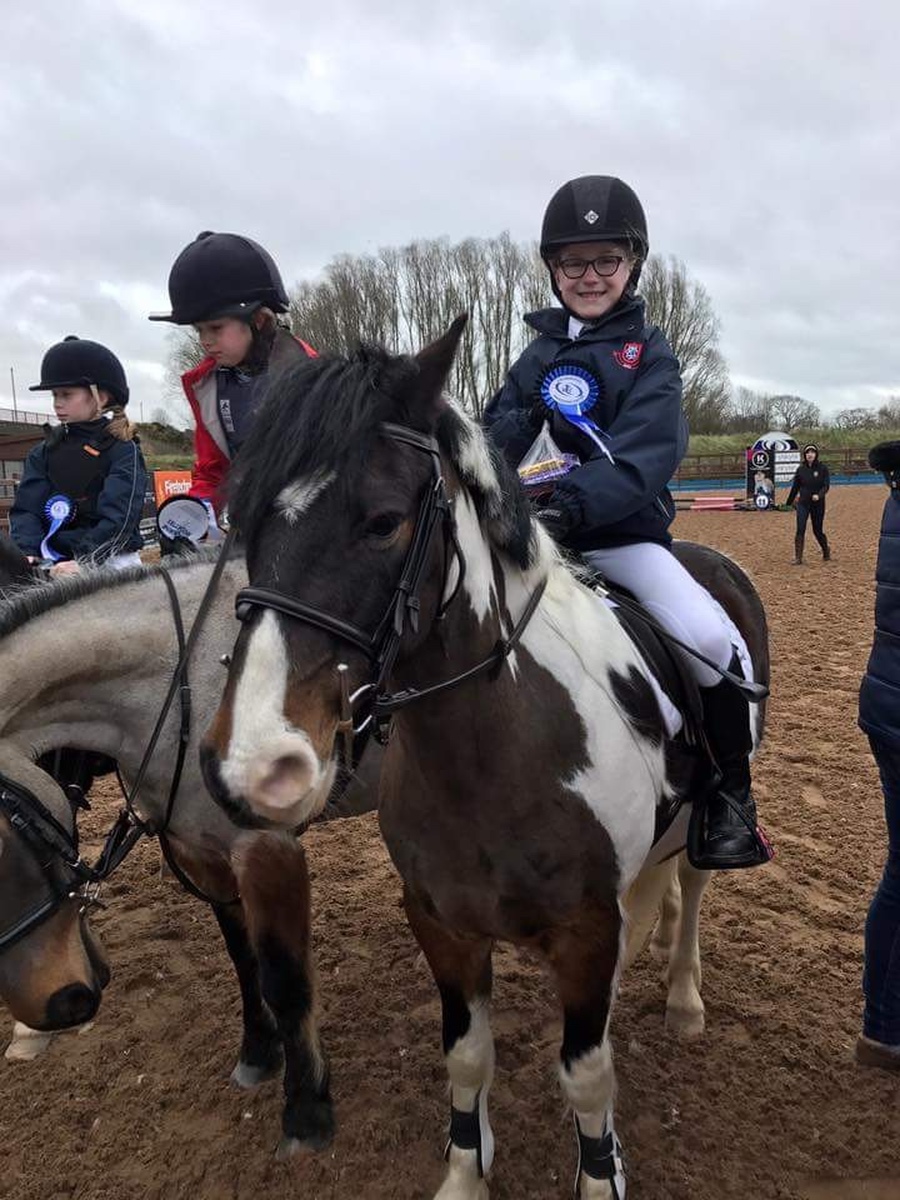 Congratulations to a very courageous pupil who braved the elements on St. Patrick's Day to achieve 2nd place in the Primary Individual class. Fabulous achievement!
iteach MinecraftEDU competition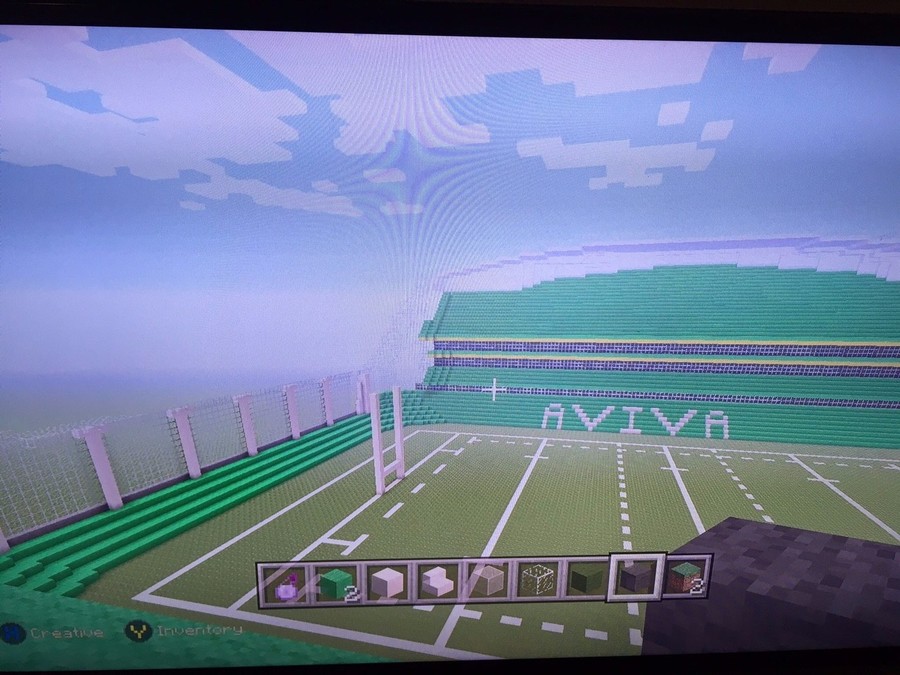 We have a 'master miner' in Primary 7 who recently came joint 3rd in the ICT Schools competition to design the Aviva stadium on Minecraft. Congratulations Matthew!
P6 visit Carrickfergus Library
Both Primary 6 classes made their annual trip to Carrickfergus Library in March this year. There they were taken on a tour of the library and its resources, both virtual and those in the real world, by local librarian and parent, Mrs Millar. At the end, library members also had the opportunity to borrow some new books. We really enjoyed our visit!
The school choir had a fabulous time participating in the Peace Proms concert 2017 in the SSE Arena, Belfast on Sunday 26th February. Approx. 3000 children took part alongside guest soloists and the CBOI Youth Orchestra, conducted by Greg Beardsell - what an experience! All of our pupils should be very proud of their hard work for this event and they seemed to thoroughly enjoy it as they sang their hearts out & danced their socks off all afternoon!
Pupils respond to Stand by Me assembly
Jonny from a charity close to our hearts, Stand by Me, has been visiting us regularly in assemblies and has also been taking some RE lessons in KS2. In response to his classroom lessons on 'needs and wants' two of our P6 girls decided to gather up their loose change etc. and give it to help the work of Stand by Me. It was lovely to see this important message impacting pupil lives outside the classroom too.
'In the Net'
Just ahead of the national Safer Internet Day, we had the privilege of hosting classes from our Shared Education partnership schools, St. Nicholas PS and Sunnylands PS to watch a play on the topic of internet safety entitled 'In the Net.' This was perfectly pitched by the playwrights for the mid-primary school age range and left plenty of food for thought for us all.
Peace Proms workshop
Early on the last Monday morning in January, our school choir headed off to the Ulster Hall for a workshop with renowned conductor, Greg Beardsell, ahead of the Peace Proms concert at the end of February. We learnt a number of singing tips as we went along and were treated to beatbox sounds performed by Greg Beardsell himself. What a lovely way to start a Monday morning!
This week P5-P7 were able to have lots of fun participating in Cage Football sessions run by Youth for Christ. We are very grateful to North Street Presbyterian for providing us with this fabulous opportunity. What a way to start and finish the week!
A Christmas Celebration 2016
What amazing talent was on display in the P1-P4 Christmas Celebration. Every child took part and performed their role with enthusiasm and dedication - we are very proud of them all. KS2 also held their bi-annual Carol Service. Each pupil rose to the challenge in reading, singing, playing an instrument or helping out on the night. They were all fabulous - a credit to their school. A new feature this year was a staff singing group at the end of the Carol Service - perhaps a regular feature in the future?!

During the Autumn term, Carrickfergus Model PS successfully achieved the HP Digital Schools of Distinction Award. To date, fewer than 20 schools in NI have this accolade. We are very proud of the teachers and pupils who participated in the assessor's visit & to all teachers and pupils as they continue to contribute to the digital learning in our school.
Sustrans Active Travel - Orienteering
As part of the Sustrans Active Travel initiative, Primary 6 & 7 pupils participated in orienteering sessions in late November. We are pleased to report all pupils navigated their way around the course - some more quickly than others!
£406 raised for Children in Need - what a 'spotacular' effort - a big thank you & well done to all our pupils and parents!
Fairytale Dress Up Day in Primary One
At the end of October, Primary One pupils (and teachers!) held their annual Fairytales & Nursery Rhymes Dress Up Day. They took part in a special Fairytale Parade around the Assembly Hall and even had a banquet in class fit for princesses and their Prince Charmings. A big thank you to all the grown ups who 'transformed' their children that morning - everyone looked magical!
New School Rugby Kit
At the beginning of October we had the privilege of unveiling the new school rugby kit and doesn't it look fabulous?! We are extremely grateful to Forever Living for sponsoring the school rugby kit and to Mr and Mrs Cowden for sponsoring the kit bags. What a wonderful start to the 2016/17 rugby season!
Sustrans Safe Travel to School
The first of this year's Sustrans Safe Travel to School events took place recently. At the end of September, KS2 classes had a bikeability workshop in which they learned how to look after their bikes. Our Sustrans officer also held a Bike Clinic on the last Friday of the month where pupils could bring their bikes to school for a comprehensive maintenance check and received a report on the 'health' of their bikes. A big thank you to all the parents who transported bikes to school that day.
European Languages Day
We celebrated European Languages Day at the end of September with a special assembly organised by Mrs Robinson on Friday 30th September. As a school we used this opportunity to showcase all of the world languages represented by pupils in our school community. Thank you to Mrs Robinson and to all the pupils who participated and to the fabulous senoritas and matadors in Primary 2 for their colourful displays! P6 also had the privilege of having some A-level pupils from Carrickfergus Grammar visit their classrooms and teach them a little French and Spanish too. It was great fun!
Carrickfergus Model's EU referendum
On Wednesday 8th June 2016 we held our own EU referendum. After much campaigning, both sides presented their convincing arguments to a packed Assembly Hall that morning in a last bid to win voters. At Breaktime and Lunchtime, the P7 electoral officers were open for voting by P3-P7 pupils and teachers alike. Votes from the sealed ballot box were counted that afternoon.
The result returned from Carrickfergus Model P.S. was:
215 votes cast (over 95% turnout)
3 spoiled votes
136 votes to LEAVE the EU
76 votes to STAY in the EU
A fantastic campaign by P7s on both sides and their campaign managers, Mr Catterson and Mrs Boyd - well done everyone!
Sports Day 2016
After a very inclement start to the day, the sun eventually broke through. Well done to all our pupils, each one participated with great enthusiasm and sportsmanship and thoroughly enjoyed their ice pops afterwards. Our appreciation also goes to Fortfield Spar for sponsoring this event and donating the ice pops to refresh everyone in the afternoon.
PTA Fun Day 2016
The annual PTA Fun Day on Friday 3rd June was a great success - the sun was shining, the sausages were sizzling and pupils were having lots of fun. We are very grateful to all our parents who helped with this event in any way. A massive thank you to our parents and pupils who attended Fun Day this year - over £2400 raised. This will go towards the construction of a roofing structure to help weatherproof the inner play courtyard - thank you!
P2 are out of this world!
Recently, Primary 2 have been having lots of fun learning about Outer Space. They even held a video conference with a real live astronaut!
P6 Viking Day
Just after the Easter holidays, Primary 6 went back in time to the Viking era. Everyone participated with enthusiasm especially when honing their sword fighting techniques. It was impressive to see how many pupils were brave enough to sample the Viking food - buttermilk included!
PTA Easter Egg Design Competition
A big thank you to every pupil who participated in the Easter Egg Design Competition. We have very creative pupils and parents! Well done everyone.
P5 Egyptian Day
Just before Easter, Primary 5 travelled back in time to Ancient Egypt. Everyone thoroughly enjoyed looking the part & participating in all the learning activities on offer on Egyptian Day - the adults seemed to be having plenty of fun too!
World Book Day 2016
We have been very busy engaging in a number of activities for World Book Day this year - an Extreme Reading photo challenge, learning a World Book Day song, local storyteller visits and KS2 participated in a live video conference to vote for our 'recommended read.' It was out of this world!
Safer Internet Day 2016
Safer Internet Day 2016 took place on Tuesday 9th February, with the theme 'Play your part for a better Internet'. Many activities took place throughout the school, including an Internet Safety talk for our P7's, interactive workshops, and a competition to design an Internet Safety Avatar! We had great fun exploring the importance of Internet Safety! Below are some of our prize winners from the day. Well done!
BBC Radio School Choir of the Year Regional Heat
On Monday 8th February, the Senior Choir had a fabulous morning at the Ulster Folk and Transport Museum competing in the BBC Radio School Choir of the Year Regional Heats. What an inspiring location to sing!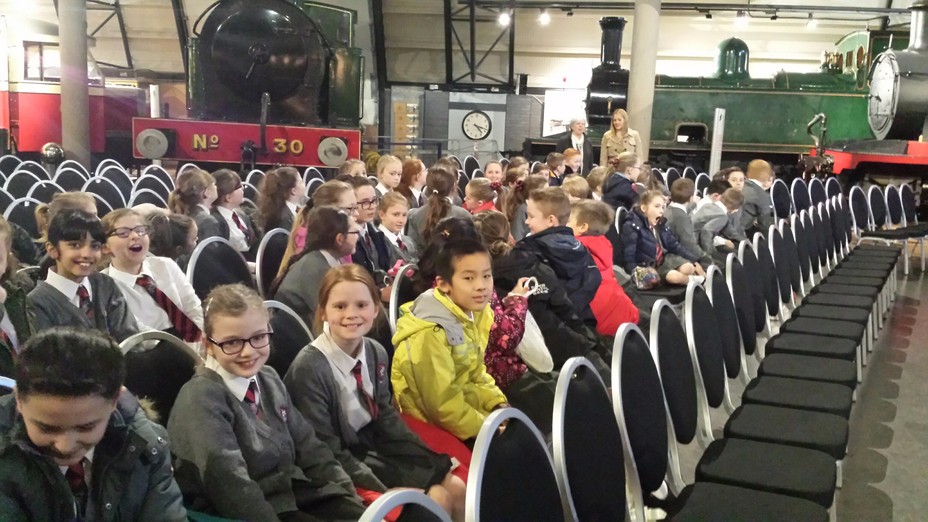 KS2 panto time! Brilliant work by every pupil in KS2
P1 - P4 A Christmas Celebration
Have a look at the photos above of the P1-P4 Christmas Celebration. Primary 1 performed their annual nativity and all pupils looked and sounded fabulous. P2-P4 held their bi-annual Carol Service entitled 'An Unexpected Christmas.' Their angelic singing raised the roof and each and every pupil gave us food for thought as we approach this season of giving. Well done everyone!
School Orchestra @ The Snowman performance
On Saturday 5th December, the school orchestra went to the Waterfront Hall, Belfast. There they were able to experience a professional orchestra live in performance. Pupils and teachers alike enjoyed an interactive concert with the Ulster Orchestra providing a live performance of The Snowman soundtrack whilst the animation played on the big screen. Elsa, Anna and Santa himself even made an appearance during the concert. Learning the 'Penguin Song' was one of the highlights. Thank you to the parents who transported our pupils to this event at such a busy time of year, it was greatly appreciated.
Sustrans NEON Day
The last day of school before the half term break saw the first of our Sustrans Safe Travel to School events - NEON Day. As you can see, everyone got into the spirit of the day - there were even some neon mummies and daddies dropping pupils off to school that morning.
Harvest 2015
On Friday 9th October we held our annual Harvest Assembly in which pupils from every year group participated in song, prayers, poems and bringing gifts to the Harvest table. Afterwards, baskets of fruit and flowers were distributed to local senior citizens by Primary 5 pupils and the tinned items were donated to a local charity, Storehouse. Thank you sincerely to all pupils and parents who contributed to our Harvest thankgiving celebration this year.
European Languages Day
We celebrated European Languages Day with a special assembly organised by Mrs Robinson on Friday 25th September. As a school we used this opportunity to showcase all of the world languages represented by pupils in our school community. Thank you to Mrs Robinson and to all the pupils who participated and to the fabulous senoritas and matadors in Primary 2 for their colourful displays!