Recent events
Have a look at some of the special occasions that have taken place at Carrickfergus Model recently. There are always plenty of things happening around our school.
PRIMARY 5 'HEALTHY KICKS'
Primary 5 have been enjoying the 'Healthy Kicks' programme brought to school by Burns Skills School coach Mark. Today we tested ourselves in Power, Balance, Agility, Co -ordination and Flexibility. After six weeks of fitness training we will do the tests again to see if there is any improvement!!
PLAYERS OF THE WEEK
Congratulations to these two players who Burn's Soccer IFA Football coaches have chosen as 'Players of the Week'. Well done!
Model Pupils Help the Environment
Have a look at these brilliant pupils who are helping to shape our future one small step at a time. These pupils are braving the elements to take part in a local beach clean at Carrickfergus Castle. This event was organised by the council.

Outdoor Learning Area
Thanks once again to our helpers at the weekend. Now the area has been landscaped we can now fundraise for outdoor learning equipment. We can't wait for the children to use it!
Memory Boxes
Here are some photos of P5 completing a creative task this week on Fab Friday. They are wrapping memory boxes! This was a challenging task in many ways and it required lots of teamwork. Well done P5!
PRIMARY ONE
What busy bees Primary One are. Just have a look at the fun they are having and the great work they are doing in the Model!
LANDSCAPING TEAM
Thanks to the super parents who helped with landscaping our outdoor learning area on Saturday. What a brilliant team of volunteers!
PRIMARY ONE - ALL ABOUT ME!
Have a look at our lovely new P1 children. They have been taking part in lots of fun, interesting play based-activities.
These pupils in Mrs Morton's class have been creating water pictures, making beautiful colourful paintings, enjoying some cooking related role-play, completing number puzzles and acting out some dramatic puppet shows amongst many other things. They are settling in very well to life at the Model. Keep up the great work P1!
THE RIPPLE EFFECT
P7 embarked on their first Ripple Kindness lesson today. They had to work together to untangle the circle without breaking the muddled up chain of hands. Mrs Kirkland was very impressed with how each group worked as a team.
P1 AND P2 AWARDS CEREMONY
Well done to everyone in Primary 1 and Primary 2 for receiving certificates today. As we can see from the photos below there were a lot of important categories for teachers to choose from - from good manners to helpfulness to being a Maths Whizz or a Book Worm.
What a lovely place to hold the ceremony too - outside in the sunshine at our fabulous outdoor classroom!
P3 and P4 AWARDS CEREMONY
Congratulations to the children in Primary 3 and Primary 4 who received their end of year certificate awards. There were some Hero Helpers, Fantastic Friends, Shining Stars amongst other curriculum awards. Some P3 pupils even won cup prizes too!
Remember children, your teachers are very proud of you! Keep up the good work and remember to create a ripple effect by being kind to everyone around you over the summer!
SHARE CENTRE TRIP - FINAL DAY!
As you can see from the photos below P6 have spent their final hours at the Share Centre climbing, playing archery, sailing, jumping into the water and much more. (It looks like they enjoyed a nice meal and some dancing last night too.) I'm sure they have made memories for life!
SHARE CENTRE TRIP - DAY TWO!
P6 were active all day on and off the water in the glorious sunshine again today - canoeing, banana boating, laser tag in the forest, mountain biking, sailing, archery and the climbing wall. We're not done yet... the disco's still to come!
The Model's Got Talent!

Primay Four created their own version of the famous talent show today! Pupils from Mrs Robinson's class displayed a range of talents including gymnastic displays, dance routines, ball skills, accompanied piano pieces and violin playing! The pupils performed to an enthusiastic, supportive audience, and judges Ellie, Charlie and Joel gave extremely positive feedback and words of encouragement to everyone who took part. Well done to one and all! This could be the start of something!!
SHARE CENTRE TRIP - DAY ONE!
Have a look at the activities P6 have been getting up to at the Share Centre today. They have been practising their archery skills, they have been rock climbing, using a water slide and cycling too. It looks like they are having a brilliant time.
We all look forward to tomorrow's next installment!
PRIMARY 6 AWARDS


P6 had an al fresco awards ceremony on Friday afternoon! Celebrating our pupils' character traits, the awards ranged from those with a big heart, to the insightful and the courageous.
PRIMARY 6 AWARDS
Below are the winners for the 'Most Improved Musician' (whole school award) and of the Oliver Cup for'Best Under 10 Footballer'.
FOOTBALL FESTIVAL
Today P3, P4 and P5 really enjoyed taking part in a Football Festival run by IFA coaches. Here are some pictures of both P4 classes in action.
Swimming Success!
An early start, after a very exciting and late journey back from Northumberland, didn't stop P7s, and an honorary P6, from giving it their all at the School Swimming Gala. Medals came in all strokes, with some very close races and a second place trophy, in a nail biting relay race! A fantastic morning ended on a high, when pupils from the Model, for a second year in a row, were named overall winners of the Gala! A big thank you to all the parents who showed up to give lots of support and cheer us on!
Congratulations to Saria Ogilvie and Daniel Harvey competing at the Ulster Schools Minor Swimming Gala. Saria had a fantastic start at her first Ulster competition coming 9th in a large class. Daniel amazed us all getting Silver in the 50m backstroke and Gold in the 50m freestyle!! We are very proud of you both!!
Overall the pupils won medals, a second trophy for the relay and won overall swimming gala shield as we earned the most points.
NORTHUMBERLAND TRIP - DAY 4
P7 set off for home on Thursday with a couple of stops along the way. After visiting the Sea Life Centre, they ventured on to Gretna Green shopping outlet to buy some last minute gifts. Although the boat was delayed, P7 were in high spirits as Mrs McCullough put them through their paces while we waited & those with any energy left sang the rest of the way home. P7 pupils were a pleasure to spend with this week and were often complimented on their manners, good behaviour & enthusiasm for the tours and workshops undertaken. Well done P7!!
NORTHUMBERLAND TRIP - DAY 3!
P7 have been upside down, inside out and back to front at Flamingoland today. The great weather continued which helped us all to dry out after the water rides :) After dinner, we headed out for a game of ten pin bowling. Day 3 was a lot of fun!
NORTHUMBERLAND TRIP - DAY 2!
Great weather followed us on our travels on Tuesday. We started with a tour of St James Park Stadium. At Alnwick Castle we all passed our broomstick lesson with 'flying' colours. We finished the day with a guided tour of Newcastle in the evening.
P7 NORTHUMBERLAND TRIP - FIRST NEWS!
After a very early start and a lovely smooth sailing, P7 have safely arrived in Boldon. They had lots of fun at Dalscone Fun Farm this afternoon and they are looking for to St. James Park Stadium a visit to Alnwick Castle tomorrow.
Trip to Greenmount
Have a look at the different activities P5 got up to on their recent trip to Greenmount. They identified forest mini beasts, went on a mini beast hunt, went walking in the maze, took part in some pond dipping and had a lovely lunch.
P4 Zoo Visit
Primary 4 really enjoyed their visit to Belfast Zoo today. They especially enjoyed learning great facts about their current topic, 'Rainforests', and they even had a chance to visit the Rainforest enclosure.
Pupils got to see, up close, many interesting animals from continents all around the world such as a python snake, a stick insect, a Pygmy hedgehog, a giant snail and a tree frog.
Pupils also had an opportunity to see a wide variety of other animals at the zoo as well as hang around like monkeys themselves on the playground equipment.
Have a look at the great fun they had on this beautiful sunny day.
Buddy Bench Ireland Visit
On Thursday and Friday of this week our school had a visit from Buddy Bench Ireland.
The enthusiastic lady who visited P4 taught pupils how to be a good friend to others, how to spot someone who was feeling excluded and how to let that person know that someone was there for them. She taught P4 the phrase 'Look up, look around and look out for each other'.
She chatted to P4 about about what the empathy was and how important it is to show empathy towards each other.
Pupils enjoyed sitting on the bench and taking part in the variety of role plays using the fox, the robin, the squirrel and the monkey puppets.
Have a look at the lessons in action.
P6 OUTDOOR LEARNING

P6 have been taking advantage of the lovely weather and have been putting their learning about measures into practice. They have been calculating the area and perimeter of something as small as a paving brick and as large as the running lanes for Sports Day. They were busy estimating and measuring capacity, measuring the radius and diameter of the rainbow above the Friendship bench and using the maps and height charts in the playground to think about scale and averages.

What a fabulous way to learn at the Model!
FUN DAY
A big THANK YOU to everyone who helped organise 'Fun Day'. The Model could not have done it without your help. Thank you also to everyone who came along. Here are some lovely pictures of the day's activities which included an animal petting farm, a climbing wall, a BBQ, some bouncy castles, a play bus, a visit from the Fire Brigade, 'Soak the Principal', a penalty shoot out and arts & crafts.
Northern Ireland Electricity
Key Stage 2 pupils received a talk from NIE on Tuesday morning on staying safe around their electrical equipment in our environment. Pupils were offered advice on what to do if, for example, their ball was kicked into a sub-station and pupils were asked to be aware of overhead powerlines when flying kites or drones. They were also shown real life examples of the effects of electrical current flowing through everyday items such as a kite caught in a powerline. We hope this advice will help to keep all our older pupils safe this summer.
SPORTS DAY AT THE MODEL
Well done to everyone who took part in Sport's Day today. The weather was really on our side and it helped many of the P7 pupils and their teachers dry off today, after the water race! Each pupil gave their best and had a go and everyone was determined to finish each race. We are all very proud of your many achievements today so keep running all the races that life brings and keep up the great team spirit that was shown today.
Our thanks go out to everyone who played their part in organising and running this event, especially our PE Coordinator Mrs McCullough!
WALK TO SCHOOL WEEK
It's 'Walk to School Week' and lots of pupils have been getting on board our walking buses and have been walking to school with their parents and teachers. Have at look at some of our fabulous walkers in the pictures below.
If you haven't hopped on board yet you still can join us on Wednesday and Thursday morning at Carrick Castle at 8:25am!
Keep up the great walking everyone!
P6 VISIT THE LOCAL LIBRARY
On Monday P6 visited the Carrickfergus Library. Our thanks goes to one of the librarians and a P6 parent, Mrs Millar, who explained to the pupils how fiction and non-fiction books were organised in the library.
Pupils undertook activities with familiar author names and with using the Dewey Decimal System. Carrickfergus Library also has a dedicated Accelerated Reader section which was great for our avid P6 readers.
Mrs Millar also demonstrated the ebook and audiobook online borrowing facilities provided by LibrariesNI. Some pupils returned to school carrying the books they borrowed from the library during our visit.
P6 were immersed in a day of Viking life and culture today. Pupils had opportunities to take part in: brooch making, writing in runes, weaving, tasting Viking food, playing traditional games, an archaeological dig of a Viking settlement, sword drills and shield wall training and finally a little Viking green screen as a record of our busy day of learning!
Have a look at all of these exciting actives in the pictures below!
P2 REACH FOR THE STARS
P2 have been really enjoying their current topic all about Space. They went to Armagh Planetarium to learn lots of interesting space facts. They also shared facts about space during Show and Tell. Have a look at all these fun activities in the pictures below.
OUTDOOR LEARNING WITH P2
Primary 2 pupils have been really enjoying playing outdoors in the school courtyard. Have a look at them solving puzzles together, playing in the sand pit, using the puppet show and having a good bounce around on the space hoppers.
EGYPTIANS, STEM AND SHARED EDUCATION
Have a look at what P5 have been doing as part of their topic 'The Egyptians'. Pupils had to follow instructions, make water fillers and construct reed boats. It really looks like great fun!
PUPILS MEET THE AUTHOR
P1-4 pupils enjoyed meeting the author Hilary Bailey in assembly this morning. She read excerps from her books, which are set in local locations, and she told pupils about the main character in her books, her own pet dog. The children enjoyed being able to ask her questions after they watched a presentation and listened to some stories.
HOOKED ON BOOKS!
Primary 4 pupils are enjoying reading together in the lovely sunshine and in the outdoor classroom! They are 'Hooked on Books'!
Remember everyone, all reading counts towards sponsorship this week!
PRIMARY 6 TAKE FLIGHT
P6 went on a trip on Wednesday to Colin Glen Adventure Centre, as part of the Model's Shared Education programme.
They enjoyed the low ropes course, climbing activities and 'flying' down from the top challenges. The trip was to complement their learning on Bridges and Flight.
The photos below show what a fantastic adventure they had.
LATEST RUGBY NEWS
Rugby boys had great fun at The Kingspan Stadium last week. The weather was not on our side, it was cold wet and miserable but this didn't stop our boys giving it their all in every game. Thanks to all the parents that came to support.
Rock and Roll dancing makes a come-back at the Model!
Primary 4 have been learning all about life in the 1950s. They have been exploring housing, décor, fashion and music as part of their topic 'Houses and Homes'. For weeks now they have been practising 1950's dance moves such as the jitterbug and the jive. Have a look at these 1950's kids having a great time as they rock around the clock!
CONGRATULATIONS KS2 READERS!
Well done to these fantastic readers! They received certificates in assembly this morning for the progress they are making in our Accelerated Reader programme. Everyone at the Model is so proud of you! Keep up the great work!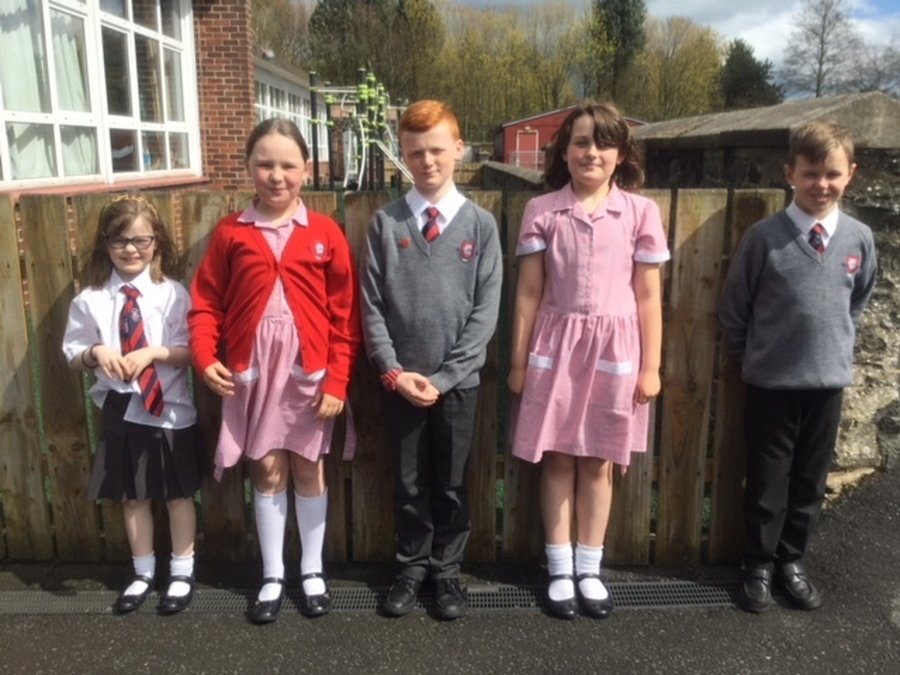 P4 INVESTIGATE
P4 have been learning all about electricity as part of their topic Houses and Homes. They have been finding out about how electricity is made and where it comes from. Pupils have been exploring the dangers inherent in using electricity as well as how to stay safe around electrical appliances. Furthermore, pupils have been discovering how to make a circuit.
Look at the photos below to see these P4 scientists in action!
THE DAILY MILE
All pupils in the Model are taking part in The Daily Mile between now and the end of June. They have been really enjoying this time out-of-doors to get fit and to chat to their peers and teachers. The P5 pupils have been walking and talking to the children from the junior school and have been making new acquaintances in the process.
To find out more visit www.thedailymile.co.uk
PRIMARY 6 TAKE FLIGHT
P6 visited St Nicholas Primary School and took part in a range of scientific investigations all linked to their current topic 'Flight'. These super scientists learned how to use code to make drones fly and they also made balloon powered cars.
Have a look at them in action in the pictures below.
MODEL MILLIONAIRES
Congratulations to these fabulous pupils; they have each won a prize for their commitment to reading. These children have reached the amazing target of reading one million words! Exemplary work Key Stage 2 readers!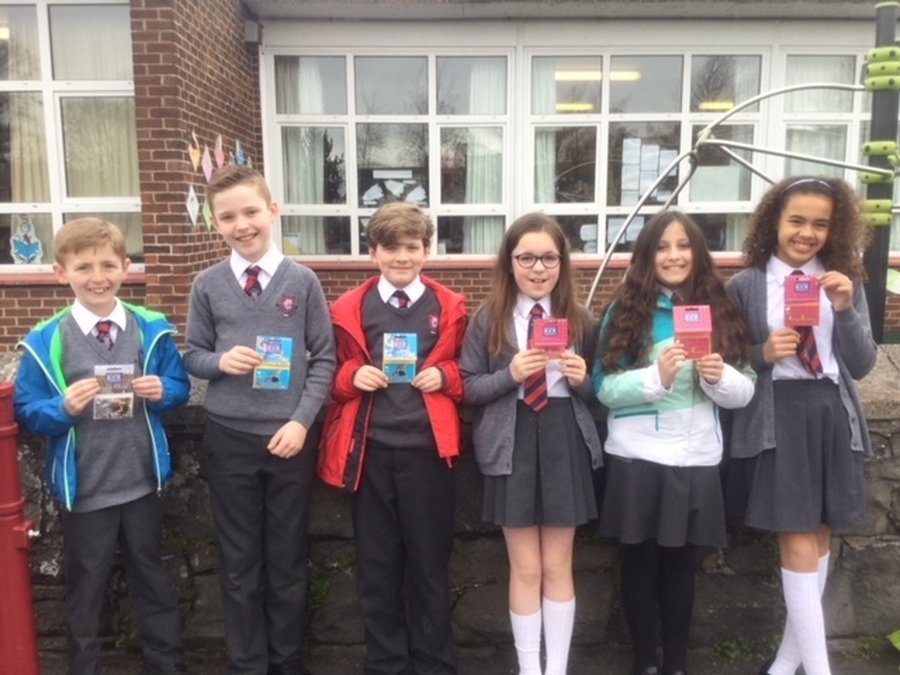 A SUCCESSFUL RUGBY TOURNAMENT FOR OUR MODEL BOYS!
The boys enjoyed a sunny day at Ben Madigan at the Area Tournament. We started as the underdogs with the only team fielding P5's but that didn't seem to hold us back! From the off we dominated the match beating Greenisland Primary with ease. Next we faced Templepatrick, a stronger opponent but we held ourselves together and triumphed in another win. Fairview was next but once again the boys rose to the challenge fending off a larger pack to get the win. The final game of the day was against Greenisland for a second time. We ended on a high leaving the tournament undefeated with an unblemished try line!! Thank you to all the supportive parents and grandparents.
TENNIS FUNDAMENTALS
The coaches from 'Tennis Fundamentals' visited our school this week. Have a look at the great fun the pupils in P4 and P5 had smashing any challenges that came their way!
Silence please...
QR CODE TRAIL
Pupils from St. Nicholas came to our school and took part in a QR code trail with their Model friends.
Pupils found out great facts about animals and their habitats by both independently using a search engine in the computer suite and then going off the beaten track and using the QR code trail around the school.
The pupils did a brilliant job of recording the facts and then producing a fabulous factual, colourful poster using Comic Life.
At the end of their journey (competed in one morning!) they used Airplay to share their final master-pieces on the Clevertouch board for their peers to see.
WELL DONE P4!
P4 CAROUSEL TO LEARN ABOUT 3D SHAPE
P4 have been learning about 3D shape. They have been looking at the properties of a sphere, a cylinder, a triangular prism, a square based pyramid, a triangular based pyramid, a cube and a cuboid.
In the pictures below pupils were moving around the classroom exploring a new 3D shape every time they arrived at another work station. When the timer went off it was time to carousel, clockwise, to the next 3D shape and fill in the properties on the large grid. After pupils had travelled 360 degrees around the room they gathered on the carpet to feed back their answers to the rest of the class.
After this pupils explored nets of 3D shapes and completed a writeup on a specific 3D shape.
GREAT WORK P4!
YOUNG ENTERPRISE AND PRIMARY 7
P7 participated in the Young Enterprise NI 'Business Beginnings Trade Fair'. They have worked hard, since January, with their volunteers to make business plans, decide on a business idea and name and then produce their final products.
They have been learning all about profits, loss, projections, the roles in a business and reinvestments. The programme ended with a trade fair at the Abbey Centre, just before Easter, and both P7 classes sent their sales teams. 'Duster Ducks' and 'Hutton's Little Daffodils' went along and worked tirelessly at promoting and selling their products. Both classes sold all of their products and after calculating and paying expenses, both made a profit! The hard part now is deciding what treat to spend our hard earned profit on!
PRIMARY 7 AND NI OUTREACH
The Northern Ireland Assembly Education Officer visited P7 to tell them about the Assembly. P7 learnt about constituencies, who our local MPs are, what MPs do and how they can help us. P7 also learnt about the voting system in N.I. and watched a video showing them what the inside of Stormont looks like. Some pupils gave a political party speech and tried to convince their classmates to vote for their Party. P7 then took part in a class election and watched how the voting system works.
MARY POPPINS PERFORMANCE
Have a look at these great pictures taken of our Mary Poppins performance in March. The children did a fantastic job and raised the standard of acting, dancing and singing in our school. The talent demonstrated by all of the pupils exceeded our expectations. They dazzled us, moved us and enthralled us by their performances. Well done Model pupils!
P6 STEM ACTIVITIES
Primary 6 have been very busy making bird seed cake to encourage some feathered visitors for their Big Bird Survey.
Have a look at their hard work in preparing the bird cakes and the holders in the pictures below. We are all looking forward to hearing about the survey results!
CREATIVE P4 PUPILS
Primary 4 have been studying 'Houses and Homes' as part of their 'World Around Us' topic. They have been creating shoe box bedrooms.
Have a look at their amazing creations - there are some lovely original ideas in each room. Well done P4!
Some pupils also used this opportunity to take a bird's eye view picture of their room as it just so happened that we were looking a 'plans' this week too.
P4 INVESTIGATE
Primary 4 have been exploring Symmetry and Tessellation. They have been using 2D shape wooden blocks, multilink cubes, peg boards, letters, picture cards, symmetry dominoes, RM Colour Magic, symmetry blobs (with paint) amongst other things.
Have a look at some of their investigation outcomes - they have made some lovely creative pieces of maths work. Well done P4!
OUR NEW FRIENDSHIP BENCH
Have a look at our lovely new friendship bench. This idea came from the children in the school council.
At the Model we are encouraging children to always include others. If someone is feeling alone or left out they can sit on the friendship bench. Someone will then come and talk to this person and offer to play with them.
What an excellent decision the school council has made!
WORLD BOOK DAY PRIZES
There was an assembly today to award prizes to pupils who wore the most creative costumes on World Book Day. Have a look at our proud winners.
ACCELERATED READER - LATEST AWARDS
CONGRATULATIONS to this week's accelerated reader certificate winners. What good timing that they received their awards on WORLD BOOK DAY!
WORLD BOOK DAY
Pupils at the Model have been very busy and very creative today as they celebrated World Book Day AS WELL AS Disconnect Week.
Children and teachers came to school dressed as their favourite story book character. There was also a special assembly for P4-7 to celebrate this special day.
Pupils also used the c2k Newsdesk to vote, access videos made by their peers and to link together with pupils from other schools to celebrate World Book Day.
Furthermore, pupils from the senior end of the school visited junior pupils in their classrooms and read to them. Have a look at these lovely pictures showing this shared approach to reading together. What a lovely way to connect with one another!
Primary Two
Have a look at the MANY different activities P2 have been getting up to. They have been learning about Jolly Phonics, Arctic animals, making friends with our partner school children and having a great time on World Book Day.
P2 Arctic Play Based Learning
From completing World jigsaws to painting Arctic animals, P2 have had an amazing Arctic time!
P2 Shared Education
Sunnyland's Primary School pupils came to the Model. P2 are getting to know lots of children from Sunnyland's. In February, Sunnyland's visited us and we had fun making new friends during PE and Play Based Learning time. We are thinking of how 'to be kind to each other.'
P2 pupils from the Model visited St.Nicholas' Primary School in February and our theme was 'Friendship'. Great fun was had by all planting seeds and creating cherry tree pictures.
P2 World Book Day
P4 came to read to P2. The Pupils had a great time interacting with each other.
P2 Jolly Phonics
Jolly Phonics time is fun! P2 are super at learning their sounds.
Busy Primary One Pupils
Have a look at the MANY different activities P1 have been getting up to. They have been investigating number, making and flying kites and listening to a mystery reader.
Have a look at these busy P1 pupils in the pictures below!
Science in Primary 5
Primary 5 have been building rockets as part of their Shared Education programme and have been investigating many different aspects of science as part of their STEM related work.
Have a look at what they have been up to in the slideshows below.
Primary 6 Share Approaches to Building Bridges
Primary 6 have been learning about constructing bridges as part of their Bridges topic and as part of their STEM related work.
Pupils from the Model visited Sunnylands to build arch bridges. Then pupils from St Nicholas Primary School came to the Model to build truss bridges and suspension bridges.
The winning suspension bridge carried a load of 13 hanging quoits - no mean feat for a lego and string construction!
The results are very impressive as you can see from the pictures below.
Accelerated Reader Awards
The first of our P5-P7 Accelerated Reader certificates were awarded in Senior Assembly this week.
So far our keen readers have read over 1,000 books and 17 million words read since the Accelerated Reader scheme was launched at the start of December!
WELL DONE EVERYONE!
P4's Marvellous Medicines
P4 have been busy making some Marvellous Medicine. They are enjoying the novel 'George's Marvellous Medicine' so much that they decided to make up some nasty yucky medicines of their own.
The ingredients were very interesting CHILLI, SHAVING FOAM, GLOW IN THE DARK LIQUID, GLITTER, COOKING OIL... amongst many other ingredients. All of the medicines came with a warning and some pupils even designed their own medicine brands with colourful packaging too!
Have a look at their concoctions!
E Safety Competition Winners
Congratulations to those pupils who won certificates and prizes for producing the most creative and most eye-catching E safety posters. Their positive messages and their unique ideas made them part of the winning team. Well done.
Here a few of the pupils with their fabulous creations!
Dazzling Decimals
Primary 6 have been working hard in maths learning all about decimals. Have a look at the great work they have been doing in the pictures below.
P7 Rugby Coaching
Here are some pictures of P7 receiving rugby coaching. Have a look at how their skills are being put to use.
P7 VISIT CARRICK MUSEUM
P7 pupils had a special visit to Carrick Museum this week. They enjoyed learning about life in Victorian times. Pupils had great fun dressing up and they learned a lot by exploring the many artefacts on hand. I wonder if they would like to go back in time and live in the Victorian era?
NSPCC VISIT
Pupils had a special visit this week from 'Buddy'. He came alongside his team from the NSPCC.
Children were shown a presentation about how important it is to find a trusted adult to speak to when you feel sad, when people are not treating you right or when something just doesn't feel right. Buddy showed us the difference between thumbs up feelings and thumbs down feelings.
Pupils also learned the important number they need to call if they need help and support. They learned the actions for this number too. 0800 1111
P7 Taster Day
P7 pupils have been out and about enjoying themselves at Carrickfergus Academy. As you can see from the photos they had a whale of a time on the sports equipment. The trampoline was the real highlight of the day!
P6 Shared Education
Pupils at Carrickfergus Model have been 'literally' building bridges with pupils from our partner schools St Nicholas' Primary School and Sunnyland's Primary School. In the pictures below you can see how pupils had to work in groups to try to figure out how to build the sturdiest bridge and one that could hold the most pupils. It is great to see how pupils worked in teams to solve any problems that came up.
After having all this fun they then had time to contemplate one of the most famous structures in Europe, the Eiffel Tower in Paris. Pupils then completed their own masterpieces through the medium of painting or sketching.
As you can see from the pictures everyone had a great time.
P7 Young Enterprise
Last week P7 pupils had a great time learning all about how to run a business when Young Enterprise NI visited our school.
All this useful knowledge of 'Financial Capability' will be put into real world practise in March when they will be setting up their own business.
Have a look at these budding entrepreneurs in the photos below. Watch out Lord Sugar!
P4 Shared Education
This week pupils at the Model went to St Nicholas' Primary School to partner up with the other P4s there. Children from Sunnyland's Primary School came too. Everyone had a fabulous time reuniting with each other.
It was a fun packed day filled with games and creative activities. Pupils particularly enjoyed playing the parachute game together as well as an Art activity where pupils drew a portrait of each other.
We cannot wait for our next get together! Have a look at our pictures, they tell the story themselves!
The Magic of Christmas
This week pupils at the Model went to see the Ulster Orchestra and Belfast Philharmonic Choir perform 'The Magic of Christmas'. Pupils enjoyed hearing all the usual and most popular melodies. In the pictures below we can spot a few pupils doing actions to the 'Twelve Days of Christmas'. A great time was had by all in attendance.
CHRISTMAS CAROLS
Here are a few photos to show you what our school choir were doing over Christmas. The pupils went out and about in the local community to spread some Christmas magic and Christmas cheer by singing carols and popular Christmas songs. Pupils visited a Senior Citizen's dinner at the Loughshore Hotel, Burleigh House Nursing Home, Danske Bank and Wesley Court and Abbeyfield's Sheltered Housing.
Thank you to all of the venues involved and for their warm welcome and hospitality. The pupils and staff had a great time!
ECO POSTER WINNERS
Congratulations to these pupils for creating the 'Best Energy Saving Posters'. Their creative posters displayed great ideas and top tips for us all as to how to help conserve energy and look after our school environment. The posters are now displayed all around the school so that other pupils can take this good advice on board. Well done P4, P5 and P6 for keeping us all challenged and focused on this important message.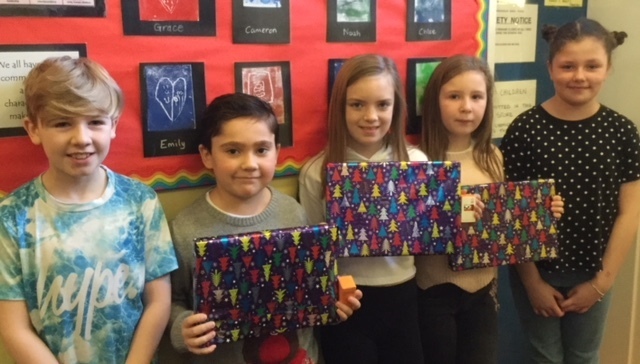 CONGRATULATIONS P5!
Congratulations to Mrs Boyd's P5 class for being the winners of 'Switch Off Fortnight'. These children have been taking care of our school and our planet by switching off lights, monitors, whiteboards and much much more. They have now earned an extra 10 minutes of play time due to their care for our environment.
Keep up the great work eco warriors!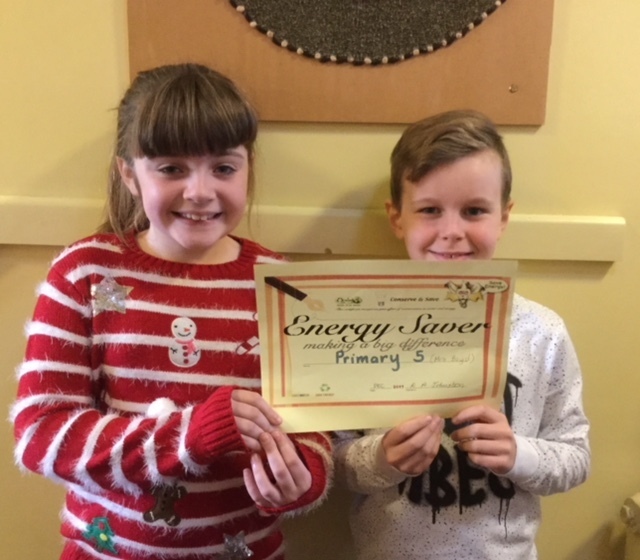 SNOWMEN ART in P5
Have a look at what P5 have been getting up to this week. They look like they are having a brilliant time making fabulous Snowmen. Just have a look at their master-pieces below!
It's beginning to look a lot like Christmas...
A CHRISTMAS CELEBRATION
P2-P4 are really enjoying their Christmas Carol Service so far. This morning they performed their first show to their mums, dads, grannies and grandas and they have been buzzing about it ever since.
Have a look at some behind-the-scene photos and then of course some pictures of the big finale performance on stage.
We look forward to seeing you all again tomorrow and on Thursday. So... 'Come and Join the Celebration'!!
HOUR OF CODE...
Last week pupils at the Model tried to solve all manner of problems by taking part in an 'Hour of Code'.
Each class from P4 upwards were invited to solve many problems and over come many difficulties by participating in a Minecraft online challenge.
Pupils had to watch a video which set the scene and the context of the problem. Then pupils either worked independently or, if they preferred, in groups to create a number of solutions until they had completed all the steps to finish the task.
Below you can see some of the pupils who finished first and received online certificates because they were excellent coders! Well done!
Congratulations to our Competition Winners!
Well done to these pupils for their well thought out and creative anti-bullying posters. These posters remind us what we can do to stop bullying and they give us good advice on how to behave like a true super hero would - 'Be a buddy not a bully.'
Have a look at these 'SUPER' posters...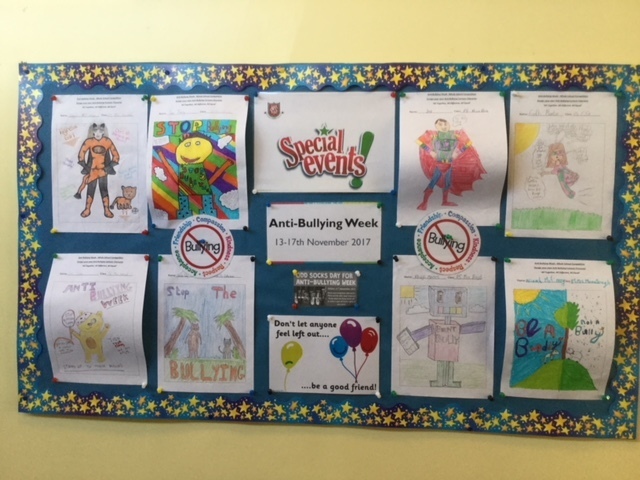 Odd Socks Day
Today, Friday 17th November, pupils in the Model acknowledged and celebrated their uniqueness by proclaiming, "We are different but we are equal." This week was anti-bullying week and so we decided to celebrate what makes us different and how good being different really is. This was the focus of our assemblies this week led my Miss Manson and Mrs Miller.
We also explored issues such as how to be a good friend, what makes us happy and sad, how we can help others and how important it is to not keep worries inside us but instead to talk to someone.
Pupils showed how being different is great by coming to school today wearing odd socks. Here are some pictures of their socks, yes their socks...so see if you can spot any socks you know! (And yes the teachers took part too!)
Remembrance Day Assembly
Reverend Cooke visited our school this morning to talk to us about Remembrance Day. She talked to P1-7 about WWI and WWII and reminded us all about the importance of the cross. Mr Clinton then played 'The Last Post' on his trumpet which was followed by a minute's silence.
Young Enterprise NI
On Thursday 9th November Primary 4 were visited by a member of Young Enterprise NI. The pupils had a great time learning about what a community is, how to build a community, what taxes are and how people are paid. Pupils had to work together as a team, share ideas, make decisions and vote on important issues. Each task offered important learning opportunities and encouraged the use of thinking skills, social skills and Numeracy skills. The pupils really enjoyed the variety of activities taught by Emma and they thanked her for her fun interactive lessons. It was a great experience for everyone.
Primary One
Primary One pupils have been very busy throughout their first half term. They have been acquiring important Literacy and Numeracy skills through a wide range of play based learning opportunities.
Just have a look at the many things that they have been doing.
Trip to W5
Primary 5 have been very busy again! This time they have been exploring the many activities on offer at W5. Take a look at all of the things that they have been up to.
Harvest Assembly
On Friday the pupils and staff in Carrick Model came together for an assembly to celebrate 'Harvest'. Pupils from different year groups read scriptures and said prayers. They shared Bible parables and groups of pupils told us stories to help us understand how fortunate we all are. Pupils sang their favourite harvest songs and performed an interactive harvest poem.
Primary One joined us a little later showing the true spirit of giving by bringing in cans of food for the harvest table. The hall was beautifully decorated with pupils' harvest art work, flowers, fruit and carefully arranged cans of food to show how much we all value the importance of giving.
As always, it was a lovely thought-provoking assembly.
Primary 5
One of the Primary 5 pupils enjoyed her visit to the local community so much that she drew a picture of one of the resident's pets that she saw. Here is her master piece.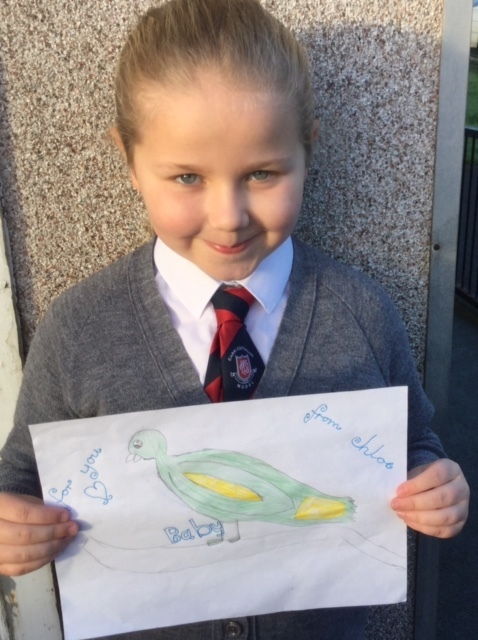 Harvest Baskets
Primary 5 pupils worked very hard on Thursday to make harvest baskets filled with lovely fresh fruit. The pupils put lots of tender loving care into wrapping the baskets and to ensuring a well presented final product. On Friday, after the harvest assembly, the pupils and their teachers then delivered the baskets, and some fresh bunches of flowers, to members of the local community. The pupils really enjoyed the whole experience.
The Book Fair
Pupils at Carrick Model thoroughly enjoyed the Book Fair when it came to school this Friday 13th October. Just have a look at the pupils' happy faces as they hold up some of their favourite book choices.
As always, a massive thank you is due to the people who work hard behind the scenes, and on the day, to make the whole experience so enjoyable for the pupils.
Congratulations Fundraisers!
On Friday 22nd September pupils at the Model had a non-uniform day in order to raise money for Noah and Gracie Coates. Pupils raised £1,530. Well done everyone!
Noah and Gracie are from a local family. They suffer from a very rare genetic condition known as Vanishing White Matter Disease. They are the only two known cases in Northern Ireland at present.
Here are the pupils on their non-uniform fundraiser day.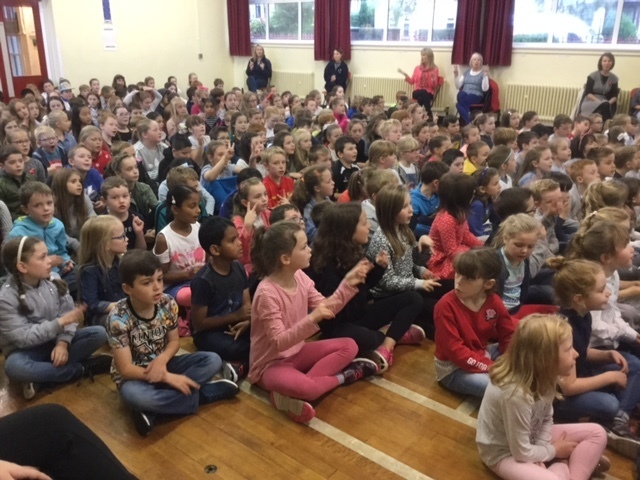 New Hive Hackers in P5-7
Have a look at what Primary 5-7 have been learning in ICT. These pupils are taking part in a seven week computer programming course run by PWC. The course is helping our pupils to acquire important coding skills such as writing algorithms, sequencing, looping as well as how to use conditionals. In essence the pupils are learning a whole new language as well as how to develop a mindset for coding. Just look at the concentration on their faces as they work out what they need to do next. There is little doubt that important problem solving skills are at a maximum in the pictures below!
A big welcome to our new P1 pupils. Just have a look at how well they are settling in to life at Carrick Model Primary School.
Translink Bus and Train Week - 5th-11th June 2017
As part of Translink's Bus and Train Week, our P3, P5 and P7 pupils visited Carrickfergus Railway Station where they were given an insight into current and previous operations at the station and were also taught about railway safety. This was a very informative trip and the kids were delighted to get a goody bag to take home!
ECO flag award
Congratulations to Mrs Falconer and the school ECO Council on achieving the ECO flag award once again. Worthy recgntition of all the hard work undertaken by Mrs Falconer and her ECO councillors - Shannon Jess, Stuart Crooks, Erin Walker, Emily Magill, Jayden Hamilton, Ben Palmer, Anya Laughlin and Alex McGrew. Well done everyone!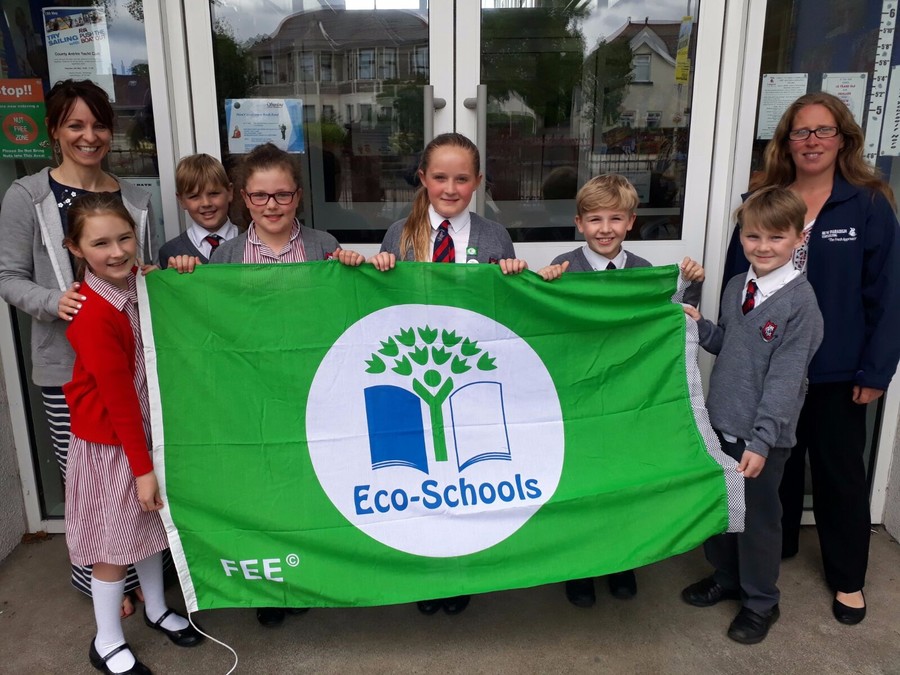 Almost £3000 raised at the PTA Fun Day 2017 - a massive thank you to all our parents and pupils!
Rugby @ Ravenhill
On Wednesday 10th May, the P6/7 rugby team participated in a mini rugby tournament at Ravenhill. The glorious sunshine enabled the boys to show off their smart new kits as well as their rugby skills on the pitch. Our thanks goes to Bill Crymble, financial director of Forever Living for sponsoring our fabulous new attire and to Mr & Mrs Cowden for providing kit bags, perfect for keeping them organised between matches. The boys were paid many compliments at the tournament for how professional they looked and for how well they played.
Creme Egg Creations
Just before the Easter holidays, we held a competition to create a scene involving creme eggs. We evidently have lots of creative families in school and all our staff and pupils thoroughly enjoyed admiring each masterpiece. Well done everyone!